LANCEMENT THE EYES #12 / B-SIDE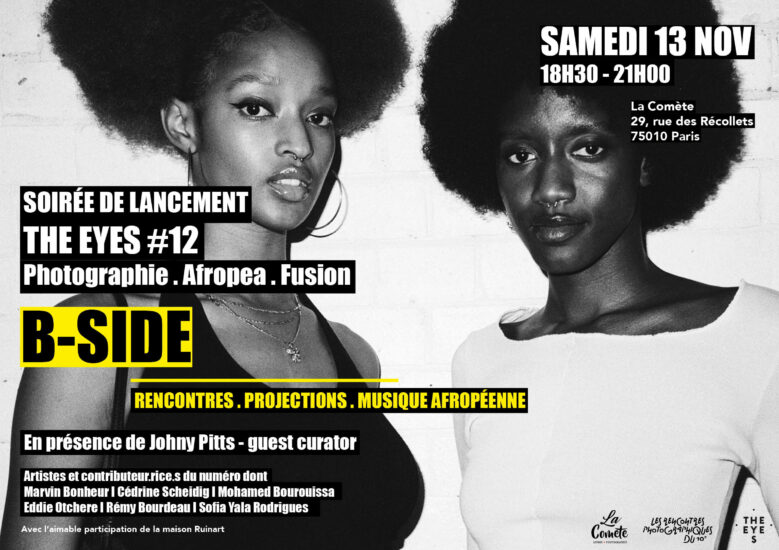 Le samedi 13 novembre, de 18h30 à 21h,
nous avons le grand plaisir d'accueillir le commissaire invité Johny Pitts
ainsi que d'autres contributeur.rice.s du The Eyes #12 dont Mohamed Bourouissa,
Marvin Bonheur, Eddie Otchere, Rémy Bourdeau, Cédrine Scheidig, Sofia Yala Rodrigues, Claudia Ndebele à participer au lancement ! 
Nous serions ravi.e.s de vous retrouver autour de quelques bulles et d'un peu de musique pour le lancement de cette nouvelle revue dédiée à la photographie, l'afropéanité et la fusion entre l'Europe et l'Afrique! Cet événement est organisé conjointement avec les Rencontres du Xème dont la 9ème édition est parrainée par Marvin Bonheur. 
Merci à Ruinart d'accompagner cet événement festif ! 
Pour ce nouveau numéro, The Eyes invite ses lecteurs à une exploration visuelle de ce que signifie être Afropéen, une notion d'expertise de notre commissaire invité Johny Pitts, photographe et auteur britannique, qui s'interroge dans son travail sur l'interaction des cultures noires et européennes.
Des photographies historiques et contemporaines singulières, des livres fondateurs et des revues pionnières exploreront cet « entre-deux », cette fusion de l'Afrique et l'Europe et la diversité des identités noires telles qu'elles sont vécues en Europe (afrodescendants et identité caribéennes).
Intitulé B-Side, ce numéro s'inspire fortement de la musique, domaine qui a donné naissance au terme « Afropéen ». B-Side, c'est aussi l'occasion de prendre une approche décalée et de s'orienter vers la Face B, celle que l'on entend peu et qu'on voit le plus souvent de manière marginale.