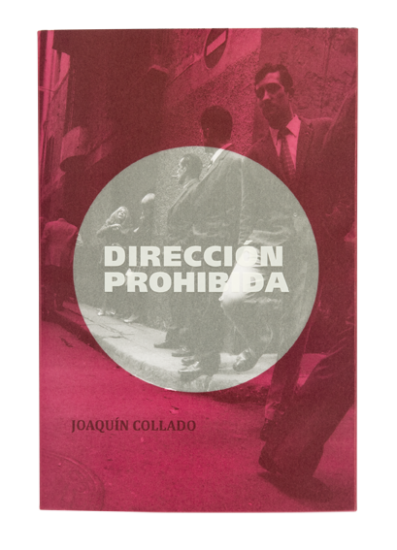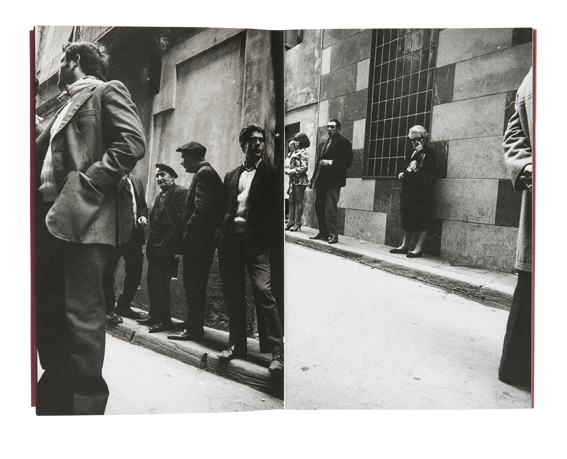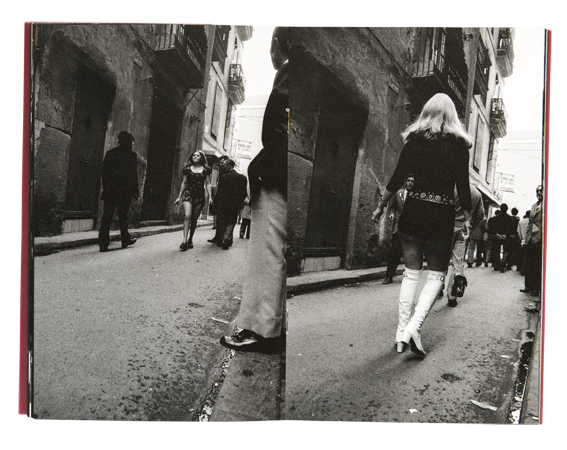 Direccion Prohibida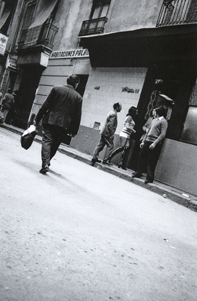 Dimanche ensoleillé. Onze heures et demie du matin. Le Barrio Chino de Valence, en plein cœur de la ville. Les piétons occupent la rue. C'est un lieu très passant et très sombre, où cohabitent prostituées et maquereaux, commerçants, musiciens ambulants et artisans. Un lieu d'agitation et de mouvement où des curieux et des fouineurs de tout poil viennent se rincer l'oeil et satisfaire leurs besoins sexuels.
C'est un jour de fête, la Fête des Pères, et les hommes se pressent sur les trottoirs, en suivant d'un regard concupiscent les corps voluptueux qui s'exhibent sous les arcades. Joaquín Collado est venu dans ce lieu pour témoignager avec son appareil  de cette atmosphère lubrique et vorace. Il sait bien qu'à cette heure-là, les quatre rues vieilles et sales qui constituent le centre pervers de la ville seront pleines d'individus guettant l'arrivée du printemps de la chair.
Il se promène discrètement, faisant mine d'être un touriste, cachant le Nikon FTN qu'il porte pour que les gens ne s'aperçoivent pas qu'il est venu leur voler un morceau de leurs vies secrètes. Tout en se déplaçant, il tousse afin de dissimuler les discrètes détonations de son appareil, et il essaye de ne rien manquer des détails de ce spectacle humain.
Agé de 42 ans, Collado est un photographe amateur  qui s'est rendu dans la zone interdite avec des intentions très claires.  Il ignore qu'auparavant, d'autres photographes ont fait la même chose à Paris (Brassaï) ou à Barcelone (Joan Colom).
Ce n'est pas grave. Son regard est original. En 1972, Collado vit la ville en authentique flâneur, en « fouleur d'asphalte » qui explore avec son appareil des histoires à raconter. La ville de Valence est enlisée dans la léthargie de la fin d'une dictature qui ne dure que trop et qui réprime le développement culturel du pays. La photographie a vécu pendant les années 1940 et 1950 sur un pictorialisme esthétisant, sur l'exaltation de la beauté. Cependant, de nouveaux photographes ont surgi qui, dans la décade des années 60, ont constitué une jeune génération de créateurs en rupture avec cette tendance.
Pas d'unité esthétique chez ces photographes, mais une même vitalité dans l'attitude.
Tous ont été influencés par le Néoréalisme italien, et font partie d'un réseau d'associations photographiques qui reçoivent régulièrement les revues et les annuaires internationaux de photographie, et qui mettent leurs membres en lien avec ce qui se passe dans d'autres pays : Cartier Bresson, Robert Doisneau, Eugène Smith, Robert Franck, William Klein, Irving Penn, ou encore des expositions ponctuelles comme The Family of Man, impliquent déjà un élargissement des perspectives et une orientation nouvelle vers d'autres manières de voir.
Partant de sa position de photographe autodidacte, Joaquín Collado fait partie de ce mouvement rénovateur, dont le regard se teinte de connotations anthropologiques et humanistes. On peut comprendre son œuvre comme un essai visuel sur la ville et ses habitants, un exercice de mémoire collective et de rencontre de l'autre.