ARTIST TALKS BY THE EYES X PARIS PHOTO
Les Artists Talks by The Eyes seront au coeur de l'événement du 11 au 14 novembre !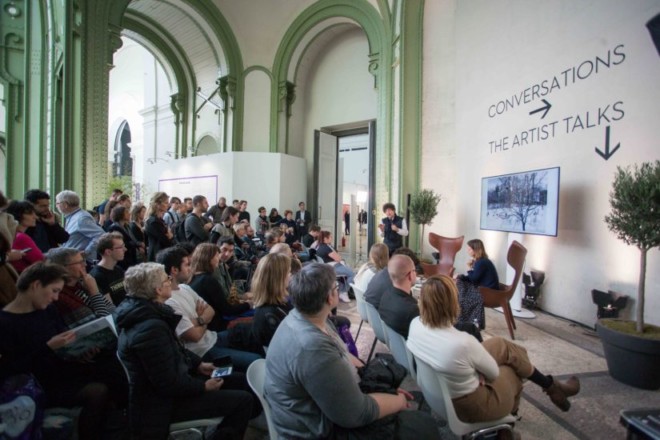 Conçus et animés depuis 2016 par l'équipe de The Eyes en collaboration avec Paris Photo, les Artist Talks by The Eyes mettent en perspective la relation de l'artiste avec le livre dans sa pratique artistique, son approche et sa réalisation éditoriale. Dans une ambiance intimiste et conviviale, chaque artiste partage avec le public son expérience autour de sa dernière publication dans un format imposé de 15 minutes suivies de Q/R avec le public. 
Au total, 36 artistes sélectionnés par The Eyes participent à ce programme unique présenté en français ou en anglais. La programmation des Artist Talks by The Eyes est réalisée et animée par Federica Chiocchetti, Taous Dahmani, Marc Feustel et Véronique Prugnaud.
12 sessions de 45 minutes / 36 artistes du jeudi 11 au dimanche 14 novembre
Sessions tous les jours à 14h, 15h et 16h – Espace The Eyes
PROGRAMME DES ARTISTS TALKS BY THE EYES
JEUDI 11 NOVEMBRE
14h00-14h45 // en français
Augustin Rebetez (Éditions Actes Sud)
Mathias Depardon (André Frère Éditions)
Marion Poussier (Filigranes Éditions)
15h00-15h45 // en anglais
Gregory Halpern (Aperture)
Luis Alberto Rodriguez (Loose Joints Publishing)
Rebecca Norris Webb (Radius Books)
16h00-16h45 // en français
Omar Victor Diop (5 continents Éditions / Magnin-A)
Vasantha Yogananthan (Chose Commune)
Raphaël Barontini (RVB Books)
VENDREDI 12 NOVEMBRE
14h00-14h45 // en français
Anaïs Boudot (The Eyes Publishing)
Elsa & Johanna (H2L2)
Mathias Benguigui / Agathe Kalfas (Le Bec en l'air)
15h00-15h45 // en anglais et français
Mame-Diarra Niang (Mack Books)
Jon Tonks (dewi lewis publishing)
Terri Weifenbach (Atelier EXB)
16h00-16h45 // en anglais
Luis Carlos Tovar (Editorial RM)
Liza Ambrossio (Kehrer)
Lauréat.e Prix du livre Paris Photo – Aperture 2021
SAMEDI 13 NOVEMBRE
14h00-14h45 // en français
Alexis Cordesse (Atelier EXB)
Julien Guinand (Hatje Cantz)
SMITH (Éditions Textuel)
15h00-15h45 // en anglais
Hannah Whitaker (Image Text Ithaca / Galerie Christophe Gaillard)
Tobias Zielony (Spector Books)
Paolo Woods / Arnaud Robert (delpire & co)
16h00-16h45 // en anglais
Cemre Yeşil Gönenli (GostBooks)
Diana Markosian (Aperture)
Rahim Fortune (Loose Joints)
DIMANCHE 14 NOVEMBRE
14h00-14h45 // en français
Elliott Verdier (Dunes éditions)
Nicola Lo Calzo (L'Artière Edizioni)
Agnès Geoffray (La Galerie Duchamp)
15h00-15h45 // en français
Antoine D'Agata (Studio Vortex)
Stéphane Charpentier (Sun / Sun )
Frédéric Stucin / Marie NDiaye (Maison CF)
16h00-16h45 // en anglais
Artistes lauréat.e.s du Prix Carte Blanche Paris Photo 2021