Artist Talks #4 – The Eyes x Paris Photo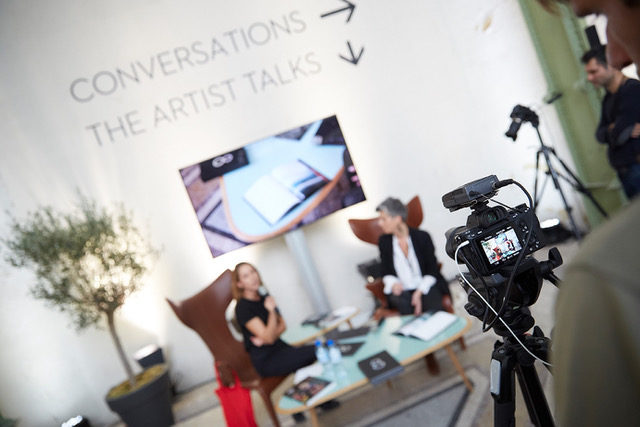 Artist Talks by The Eyes, Événement The Eyes
21/10/2019
Artist Talks à Paris Photo
Courts – Convivial – Artistes & Photobooks
Série d'entretiens à l'occasion de Paris Photo, 7 – 10 Novembre
Conçus et animés par la revue The Eyes, les Artists Talks mettent en perspective le lien de l'artiste avec le livre. Les Artist Talks donne la parole aux artistes qui partageront avec le public pendant 15 minutes leur expérience et approche éditoriale dans leur pratique artistique.  3 talks chaque heure se succèderont et chaque session sera en français ou en anglais.
La sélection des artistes donne un aperçu de la grande diversité des approches éditoriales qui existe aujourd'hui, par les différentes pratiques artistiques mais aussi par la représentation des artistes invités venant de tous horizons
Ce sont en tout 37 artistes, sélectionnés par The Eyes, qui sont invités à intervenir à l'une des 3 sessions de 45 minutes organisées chaque jour à Paris Photo.
Conversations animées par :
Marc Feustel
Commissaire indépendant, auteur et éditeur habitant à paris – site web
Federica Chiocchetti
Commaissaire, auteure et éditrice. Fondatrice de Photocaptionist.
Véronique Prugnaud
Directrice associée de The Eyes
programmation 2019
Jeudi 7 Novembre

14h00-14h45 // en anglais

Heinz Peter Knes (Lienart Editions)
Andre Principe (Pierre von Kleist Editions /

Carlos Carvalo Arte Contemporanea)
Tom Wood (Textuel, Galerie Sit Down)

15h00-15h45 // en anglais

Aaron Schuman (Mack Books)
Geert Goiris (Roma Publications)
Joel Sternfeld (Steidl, Galerie Xippas)

 

16h00-16h45 // en anglais

Martino Marangoni (The Eriskay Connection)
Paul Cupido (Bildhalle, Kahmann Gallery)
Bruce Gilden (Éditions Xavier Barral)

Samedi 9 novembre

14h00-14h45 // Prix Carte Blanche 2019

Fernando Marante
Giulia Parlato
Samuel Fordham
Chris Hoare

15h00-15h45 // en anglais

Massimo Vitali (Steidl)
Anastasia Samoylova (Steidl)
Roger Ballen (Thames & Hudson, Galerie Karsten Greve)

16h00-16h45 // en anglais

Camille Lévêque (work in progress)
Alice Quaresma (Pierre Bessard)
Lisa Barnard (Mack Books)

Vendredi 8 novembre

14h00-14h45 // en français

Zhen Shi (La maison de Z)
Carolle Benitah (L'Artière, Galerie 127)
Valerie Belin (Xavier Barral)

 

15h00-15h45 // en anglais

Lauréat.e du Prix du Livre Paris Photo-Aperture :
Henk Wildschut (auto-publié)
Joel Meyerowitz (Aperture)

16h00-16h45 // en anglais

Miho Kajioka  (The (M) Editions, Ibasho Paris)
Katrien de Blauwer (Libraryman, Filles du Calvaire)
Martin Parr (Maison CF Paris)

Dimanche 10 novembre

14h00-14h45 // en anglais

Sohrab Hura (auto-publié)
Malgorzata Stankiewicz (Meta / Books)
Pino Musi (Artphilein Editions)

 

15h00-15h45 // en français

Ludovic Carème (Éditions Xavier Barral)
Emilie Hallard (Maria Inc.)
Thibault Brunet (Mille Cailloux)
Nicolas Comment (Filigranes Éditions)