Artist Talks #4 – The Eyes x Paris Photo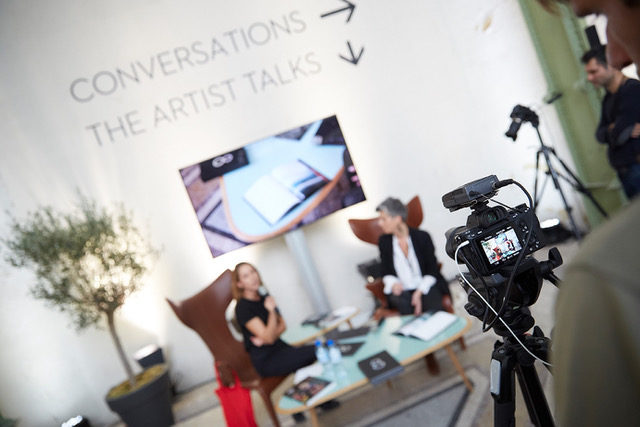 Artist Talks by The Eyes, The Eyes Event
21/10/2019
Artists Talks in Paris Photo
short– Casual – Artists & Photobooks
series of interviews  for Paris Photo, 7 – 10 of november
At the exciting frenezi of Paris Photo, The Artist Talks by The Eyes offers to the public a casual and friendly moment with the protagonists of the contemporary photography.
Organized by The Eyes magazine, the Artists Talks put into perspective the link between the artist and books.
The artists selection give a preview of the great diversity of editorial points of view that we have today, through different artistic approches but also by the representation of  artists coming from different parts of the world.
In an intimate and friendly atmosphere, each artist shares with the public his editorial project and its realization in a set format of 10 minutes, followed by Q&A.
There are 37 artists, selected by The Eyes, invited to intervene to one of the three sessions of 45 minutes that are organised each day at Paris Photo.
animated by :
Marc Feustel
Independant curator, writer and editor based in paris – website
Federica Chiocchetti
Curator, writer and editor. Founder of  Photocaptionist.
Véronique Prugnaud
Associate director of the The Eyes
schedule 2019
Thursday, November 7th

 

2pm-2.45pm // in English

Heinz Peter Knes (Lienart Editions)

Andre Principe (Pierre von Kleist Editions / Carlos Carvalo Arte Contemporanea)

Tom Wood (Textuel, Galerie Sit Down)

3pm-3.45pm // in English

Aaron Schuman (Mack Books)

Geert Goiris (Roma Publications)

Joel Sternfeld (Steidl, Galerie Xippas)

4pm-4.45pm // in English

Martino Marangoni (The Eriskay Connection)

Paul Cupido (Bildhalle, Kahmann Gallery)

Bruce Gilden (Xavier Barral)

Friday, November 8th

2pm-2.45pm // in French

Zhen Shi (La maison de Z)

Carolle Benitah (L'Artière, Galerie 127)

Valerie Belin (Éditions Xavier Barral)

 

3pm-3.45pm // in English

Winner of the Paris Photo-Aperture Prize

Henk Wildschut (self-published)

Joel Meyerowitz (Aperture)

 

4pm-4.45pm // in English

Miho Kajioka (The (M) Editions, Ibasho)

Katrien de Blauwer (Libraryman, Filles du Calvaire)

Martin Parr (Maison CF Paris)

 

Saturday, November 9th

 

2pm-2.45pm // Carte Blanche 2019

Fernando Marante

Giulia Parlato

Samuel Fordham

Chris Hoare

 

3pm-3.45pm //in English

Massimo Vitali (Steidl)

Anastasia Samoylova (Steidl)

Roger Ballen (Thames & Hudson, Galerie Karsten Greve)

4pm-4.45pm // in English

Camille Lévêque (work in progress)

Alice Quaresma (Éditions Bessard)

Lisa Barnard (Mack Books)

Sunday, November 10th

 

2pm-2.45pm// in English

Sohrab Hura (self-published)

Malgorzata Stankiewicz (Meta / Books)

Pino Musi (Artphilein Editions)

3pm-4pm // in French

Ludovic Carème (Éditions Xavier Barral)

Emilie Hallard (Maria Inc.)

Thibault Brunet (Mille Cailloux)

Nicolas Comment (Filigranes Éditions)