LA COMETE, LIVRES ET PHOTOGRAPHIE
La Comète- Livres et Photographie, ouvre ses portes à Paris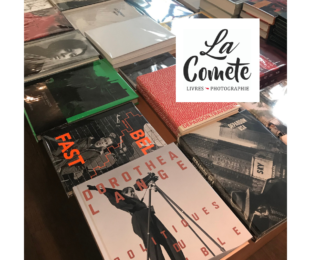 Située au rez-de-chaussé
e du nouvel espace Picto Saint Martin, la Comète est un nouveau lieu de rencontre, de découverte et de convivialité avec une programmation d'expositions, de signatures et d'ateliers.
Autour d'une librairie dédiée à l'image, La Comète s'intéresse surtout à la photographie, à l'édition 
émergente, aux éditions spéciales, et aux objets d'artistes.
En synergie avec le laboratoire Picto, une série de workshops autour de la photographie
aura lieu à à la librairie dès 2019.
La Comète dont la direction artistique est assurée par The Eyes, sera l'objet d'un weekend d'inauguration officielle du jeudi 6 décembre au dimanche 9 décembre.
Événement The Eyes
2/11/2018
Artists Talks by The Eyes à Paris Photo
The Eyes organise la 3e édition de The Artists Talks de The Eyes, à Paris Photo, du 8 au 11 novembre 2018
Coups de cœur de ®©
31/10/2018
Demeure par Amaury da Cunha
Découvrez Demeure de Amaury da Cunha, coup de coeur de notre rédacteur en chef Rémi Coignet.
Événements, Expositions
31/10/2018
Honneurs aux Editeurs !
Découvrez l'exposition « Honneur aux Editeurs! » jusqu'au 29 décembre 2018, à la galerie Le réverbère à Lyon