Taous R. Dahmani, commissaire invitée de The Eyes #10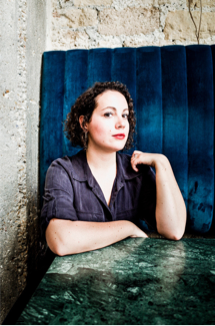 Taous R. Dahmani,
commissaire invitée de THE EYES#10
L'équipe de The Eyes est heureux de vous présenter la commissaire invitée de The Eyes #10 qui a collaboré avec nous sur l'élaboration de ce numéro autour des Traversées.
LE MOT DE LA COMMISSAIRE
Le 9 novembre 2019, nous fêtons les 30 ans de la chute du Mur de Berlin, alors symbole d'un espoir. Et pourtant, aujourd'hui, les murs qui divisent sont de plus en plus nombreux. On en compte aujourd'hui 75 et plus d'une douzaine ont surgi depuis 2010. Toujours plus d'actualité, le mur est devenu l'expression de l'obscurantisme : ces remparts idéologiques couvrent aujourd'hui 40.000 km sur Terre.
Dès les débuts de l'histoire de la photographie, avec les photographes-explorateurs, il s'agit de démontrer que les limites géographiques et nationales se placent toujours plus loin. Inévitablement, ces lignes de séparation passionnent les photographes : les frontières sont des desseins matériels et emblématiques qui interrogent les photographes sur leur capacité à décrire, raconter et déconstruire les séparations physiques, juridiques et dogmatiques. 
Ainsi, ce dixième numéro de The Eyes s'interroge sur le pouvoir narratif des photographes vis-à-vis des situations géopolitiques qui nous préoccupent. Ils regardent les rapports de domination, les conflits d'intérêt mais aussi la circulation, l'ouverture et les tentatives d'unité. 1989 puis 2001 sont des marqueurs contemporains d'explosions des techniques de démarcation, pourtant le XXIe siècle est tout sauf un siècle d'immobilisme : les hommes sont en mouvement, se déplacent et traversent ces frontières imposées, sous l'objectif des photographes.
BIOGRAPHIE
Commissaire invitée de ce dixième numéro, Taous R. Dahmani est historienne de la photographie, basée entre Paris et Londres. Elle est actuellement doctorante contractuelle à l'Université Paris 1 Panthéon-Sorbonne où elle enseigne l'histoire de la photographie du XXe siècle.
À partir de septembre 2019, Taous sera chercheuse associée à la Maison Française d'Oxford et à l'Université d'Oxford. Son projet de thèse se construit autour de la représentation des luttes et de la lutte pour les représentations. Ses écrits et prises de paroles abordent toujours la question du politique et de sa relation avec le médium photographique.
Elle a écrit pour des revues scientifiques comme Image & Narrative et PhotoResearcher ; mais aussi pour des magazines d'actualité comme 1000 Words. Elle donne régulièrement des conférences aux seins de colloques universitaires mais aussi aux Rencontres d'Arles, à Paris Photo, à la Photographers' Gallery ou encore à la Tate Modern.
Portfolio, The Eyes #10
16/10/2019
The Eyes #10 // Section Portfolio
Découvrez le regard des photographes et auteurs du portfolio dédié à la thématique des Traversées
Bibliomania, The Eyes #10
16/10/2019
The Eyes #10// Section Bibliomania
Découvrez dans la section Bibliomania de The Eyes #10 les critiques de livres, le grand entretien avec Edmund Clark et une sélectionne de livres liés à la thématique