TRANSGALACTIque
Photographie . Genre . Transition
Panorama subjectif de l'histoire de la trans-photographie
Carte blanche à l'artiste SMITH &
la commissaire / performeuse Nadège Piton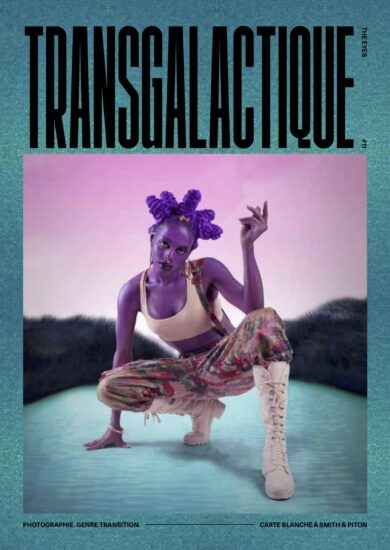 Photo de couverture : Juliana Huxtable, Sans titre (Psychosocial Stuntin'), 2015. Edition de 3. Courtesy de l'artiste et du Projet Native Informant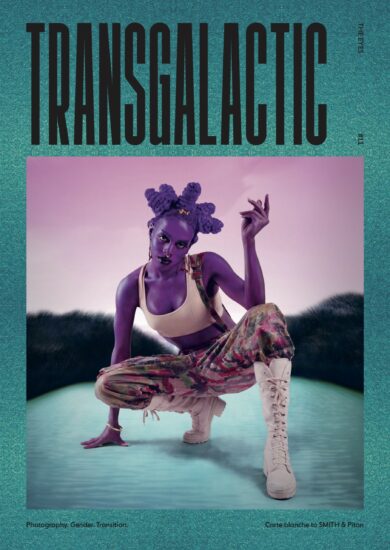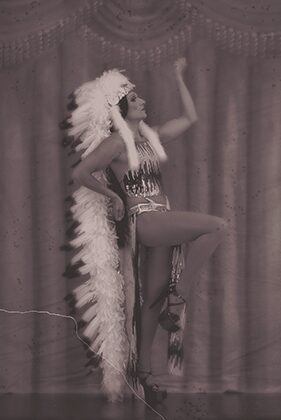 Kent Monkman, The Emergence of a Legend, 2006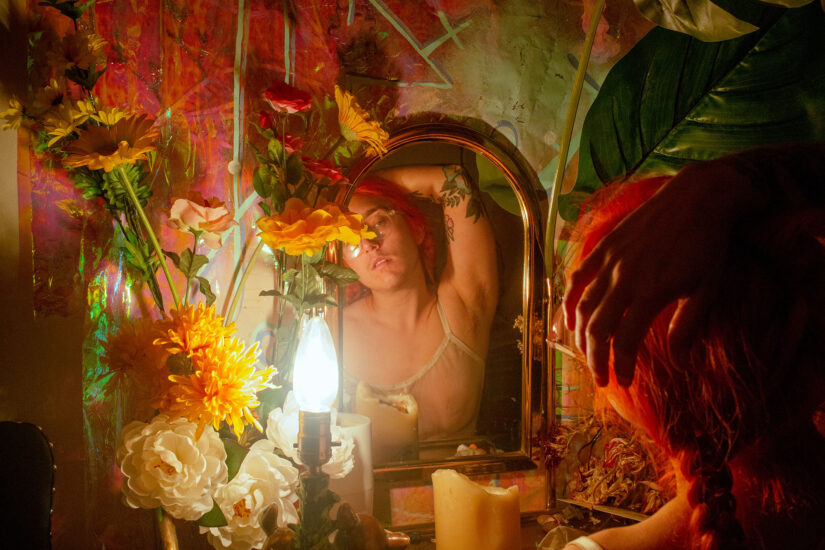 Laurence Philomène, self-portrait in nina's vanity from the series Puberty, October 2019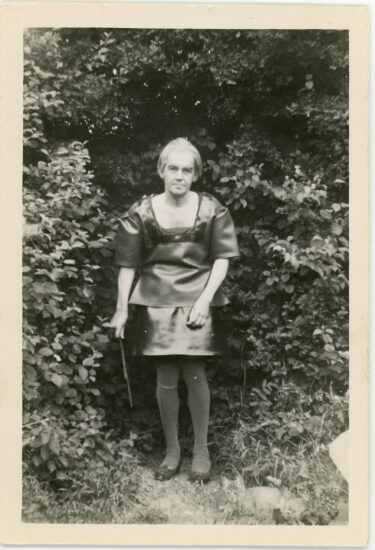 Marcel Bascoulard, Pose 6, 19 juillet 1971. Tirage argentique. Courtesy de la Galerie Christophe Gaillard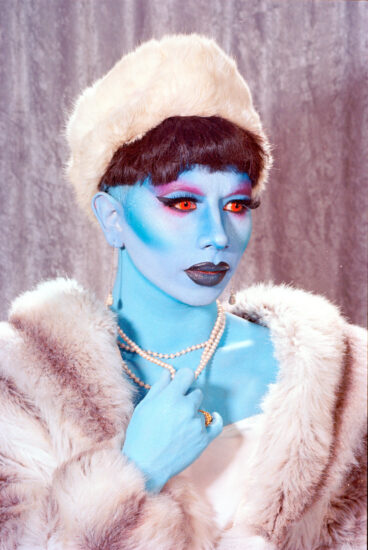 Parker Day, Blue Lady, 2016
THE EYES#11
Transgalactique
photographIE. genrE. transition.
The Eyes interroge les évolutions culturelles et sociétales à travers le prisme de la photographie et de la création et donne carte blanche à des experts directement concernés par les sujets abordés.
Pour ce onzième numéro, l'équipe de The Eyes invite l'artiste-chercheur SMITH et la performeuse et commissaire d'exposition Nadège Piton à esquisser un panorama subjectif de la place jouée par la photographie dans la construction du (trans)genre.
The Eyes #11 questionne la place jouée par la photographie dans la reconnaissance de la transidentité.
« Une carte blanche autour de la question du genre dans la photographie » : telle était l'invitation qui nous a réunis aujourd'hui. Que faire de cette question ? Comment mettre en relation le genre et la photographie, deux titans conceptuels liés et imbriqués à bien des égards ? Quel « gluon », sécrété par cette vaste réflexion, agrégerait nos regards et nos expériences pour livrer un diagnostic, un bilan, un panorama ? »

– SMITH & PITON
Soutenu par des textes du philosophe Paul B. Preciado et de la critique et historienne de l'art Élisabeth Lebovici, le magazine explore une diversité de points de vue autour de la photographie, du genre et de la transition ; un flot de témoignages authentiques et touchants, qui perturbent les stéréotypes du genre, livrés par des artistes tels que Cassils, Juliana Huxtable, Gabriel García Román, Laurence Philomène, Annie Sprinkle, Del LaGraceVolcano, Shu Lea Cheang, Sébastien Lifshitz…
Ce numéro de Transgalactique met en lumière une constellation d'œuvres et de livres d'artistes trans et/ou queer qui ont marqué et inspiré SMITH et Piton dans leurs parcours personnels et artistiques respectifs.
Au sein du magazine, ces portfolios prennent la forme d'un voyage transgalactique, dans une galaxie artistique qui comprend quatre systèmes : PHAINO (présage), PHOSPHOROS (révéler), DIAPHAINO (transpirer) et ANAPHAINO (illuminer).
Nommés d'après les déclinaisons de φῶς (phôs), qui signifie lumière en grec ancien, l'émergence de ces nouveaux récits compose de nouveaux points de vue, à partir du prisme de l'expérience identitaire singulière de leur auteur.
Cette onzième édition souhaite retranscrire le plus fidèlement possible la réalité des personnes transgenres, en donnant la parole à des artistes directement concernés par le thème de la transidentité.
Graphic design: Sarah Boris Studio
« Les minorités sexuelles sont toujours insaisissables, comme des êtres fantasmagoriques qui échappent à la volonté d'objectivation que la photographie a toujours voulu produire. » – Paul B. Preciado
ECOUTEZ LE PODCAST Les Filles de la Photo x SMITH

LA PRESSE EN PARLE
---
SUMMARY
Texts

SMITH & PITON

Conversation

ÉLISABETH LEBOVICI

Strategic optics or Optical strategies

PAUL B. PRECIADO

Conversation with Smith & Piton

Lalla KowskA-Régnier

The Eyes x Photocaptionist

artistic Portfolios


Annie Sprinkle

Pin Ups Postmodern Postcards

Cassils

Cuts

Gabriel García Román

Queer Icons

BREYER P-ORRIDGE & PIERRE MOLINIER

juliana huxtable

KAMA LA MACKEREL

Kent Monkman

The Emergence of a Legend

Laurence Philomène

Puberty

Marcel Bascoulard

PARKER DAY

ICONS

SAILOR DE LA JAQUETTE

 

 

 

 

 

 

 

 

 

 

 

 

 

 

 

 

books

BRICE DELLSPERGER

Body Double

DEL LAGRACE VOLCANO

The Drag King Book

Pierre Andreotti

Terrain Vague

Rhys Ernst & Zachary Drucker

Relationships

Ron Athey

Queer Communion  / Pleading in the blood

Sebastien Lifshitz

Mauvais Genre

Shu Lea Cheang

3X3X6

Yuki Kihara & Dan Taulapapa McMullin

Samoan Queer Lives