The Caritas Photo Sociale Prize launches its second edition !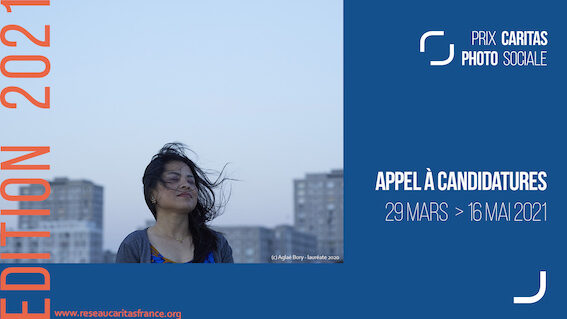 THE CARITAS PHOTO SOCIALE PRIZE LAUNCHES ITS SECOND EDITION.
The call for applications is open until May 16th, 2021 on its website. The Caritas Photo Sociale Prize confirms with this new edition its desire to promote the work of photographers who give visibility to poverty, precariousness and exclusion in France.
By supporting new perspectives, a diversity of photographic writings and original approaches to social photography, the prize also wishes to act on public awareness.
The composition of the 2021 jury reflects this positioning, bringing together experts in precariousness from the Caritas France Network and actors in photography with ever more varied profiles and perspectives. This year it will be chaired by Sarah Moon and will meet in June 2021 to select the winner and the two finalists.
The winner of the Caritas Photo Sociale 2021 Prize will benefit from:
· An endowment of 4 000€
· The edition by Filigranes of a book dedicated to his award-winning photographic series.
His work and that of the two finalists will be presented at two exhibitions:
An exhibition at the Galerie Le Château d'Eau in Toulouse (4 to 6 weeks between November 2021 and January 2022)
An exhibition in Paris (indoors and / or outdoors) during the year 2022.
The Caritas France Network, created and chaired by Secours Catholique-Caritas France, is an alliance of 11 organizations committed to the fight against poverty, precariousness and inequalities. Every day, 70,000 volunteers, volunteers and employees work within the Caritas France Network to find solutions and support the most vulnerable. In 2020, the Caritas France Network created the Caritas Photo Sociale Prize to encourage photographers who work on social subjects in order to report on the difficulties of the most vulnerable and the fight they lead to find a life of dignity and autonomy.