SIMON BAKER, SELF-MEP-MAN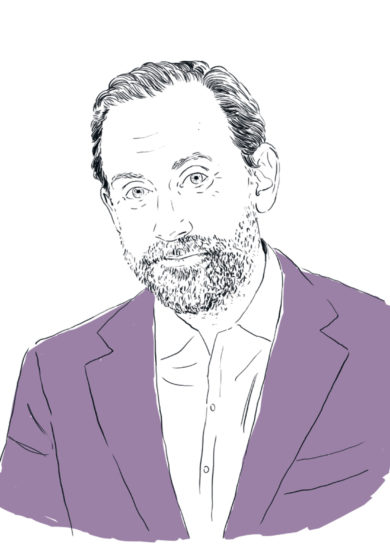 SIMON BAKER, SELF-MEP-MAN
by Émilie Lemoine 
Drawing by Mélanie Roubineau
It's not that he was bored … but let's just say he needed a change. "After nine years at the Tate Modern, I thought that it was time for a new challenge," explains Simon Baker. The former curator-in-chief of the photography and international art department of the London institution is now at the helm of the Maison Européenne de la Photographie (MEP), since May 2018. A fresh English breeze is blowing over Paris.
Like home With his strong experience, the man is steaming with ideas for his new home, because for him photography "is not a thing to hide, nor is it a treasure in a box; it is something of the everyday!" It is thus out of the question to encourage exclusivity or any superfluous intellectualism. As in London, he wants to pursue an open policy with his team, because he knows the efficacy of collective will, of a common drive to make the museum accessible, open, generous, simply welcoming. The key? Think about the audience and "less about our curator ego". The method has proven right: more than
6 million visitors per year at the Tate. Free access greatly contributed to this. One of the many paths Simon Baker wishes to explore at the MEP: why not a separate, free- access space?
His programme will be open, pluralistic and different, to include cartes blanches for artists, young photographers, many more women ("because this is the future") and artists from other countries and other practices: "Such is the reality of photography today and we must reflect that." And then there is the incredible collection. And Simon Baker makes no secret of his admiration for the work of his predecessor, Jean-Luc Monterosso, who continuously enriched the collection of the MEP for 28-odd years.
Surrealist Paris When asked about the origins of his passion for photography, his reply is as disconcerting as it is seductive: "I was never interested in photography." In fact, his own explorations into surrealism for his PhD allowed him to discover photography and acquire the certainty that it surpassed all arts. He remembers Georges Bataille's review, Documents, in which he saw Karl Blossfeldt's extraordinary flowers for the first time. So it is easy to understand how happy he is to move to Paris: "Every morning,
I am in the mind of André Breton: I walk by the Hôtel des Grands Hommes, then through Place Maubert … it's like being in the pages of Nadja!"
We will need to wait until March 2019 to see what Simon Baker has planned for the MEP. Meanwhile, he feels happy about a form of European opening with Miren Arzalluz from Spain at the Musée Galliera and Florian Ebner from Germany at the Centre Georges Pompidou. This was needed. As much as his comforting words, uttered with a slight London accent: "Paris est aujourd'hui la capitale de la photographie, comme au début du siècle." [Today, Paris is the capital of photography, as it was at the turn of the century.]
Thank you, Simon.
Exhibition Season 1 
06.03.2019 – 26.05.2019
LOVE, REN HANG (+2)
COCO CAPITÁN, BUSY LIVING (+3)