FRANCIS BACON / ANTOINE D'AGATA (new limited edition)
Francis Bacon and Antoine d'Agata
Antoine d'Agata and Francis Bacon: aesthetic parallel of two visceral works
Limited edition presented in a boxed set and accompanied by a signed and numbered print of Antoine d'Agata, as well as a reproduction of a graphic work by Francis Bacon certified by Bruno Sabatier, founder and director of the JSC Modern Art Gallery, depositary of the catalog raisonné of Francis Bacon's graphic work.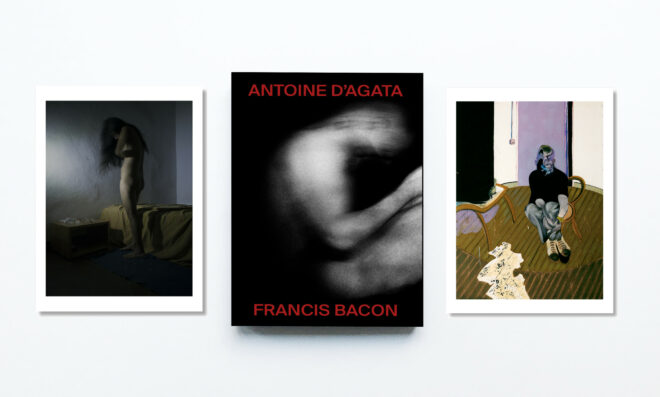 Bringing together 27 photographs by Antoine d'Agata and 25 graphic works by Francis Bacon, this bilingual French-English work, presented in the form of a double book, establishes an artistic parallel between the contemporary work of photographer Antoine d'Agata and the expressionist painting of painter Francis Bacon. The two books, bound together, can be consulted side by side, allowing one to create a vis à vis between the works of the two artists.
The texts are presented on autonomous notebooks so that it is possible to read the text while browsing through the visual narrative.
"This would result in a free zone for which the body would be a range of intensity, action and tension. The photographer and artist chose the darkness of enclosed chambers as a way of accessing this both creative and destructive energy matrix."

Léa Bismuth
Texts by Bruno Sabatier, Léa Bismuth and Perrine Le Querrec.