ARTIST TALKS BY THE EYES X PARIS PHOTO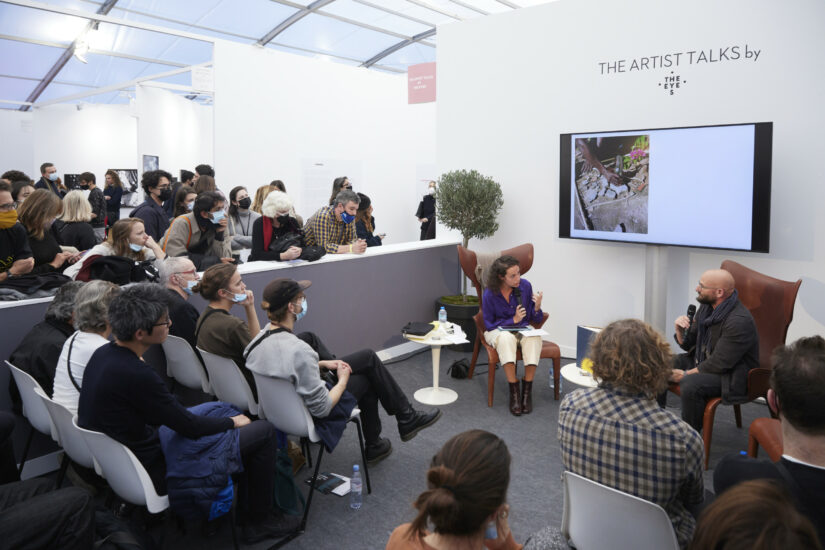 THE ARTISTS TALKS BY THE EYES WILL BE AT THE HEART OF THE EVENT FROM 10 TO 13 NOVEMBER!
Conceived and organized by The Eyes' team, the Artist Talks by The Eyes put into perspective the link between the artist and the book in his artistic practice, his editorial approach and realization.
In an intimate atmosphere, each artist shares with the public his experience around his most recent publication in a set format of 15 minutes, followed by Q&A's.
In all 36 artists selected by The Eyes participate in this unique program presented in French or in English.
Artist Talks by The Eyes are organized and hosted by Emilie Lauriola (bookseller specialized in photography), Pascale Obolo (independent curator, director of the African Art Book Fair), Véronique Prugnaud (director of The Eyes) and Marc Feustel (author and independent curator).
12 sessions of 45 minutes / 36 artists from Thursday, November 11 to Sunday, November 14 Sessions every day at 2pm, 3pm and 4pm – Espace The Eyes espace.
Programme subject to change
PROGRAMME OF THE EYES TALKS BY THE EYES
THURSDAY, NOVEMBER 10TH
2pm-2.45pm // In French
Jane Evelyn Atwood (Le Bec en l'air)
Julia Gat (Actes sud)
Guillaume Herbaut (Textuel)
3pm-3.45pm // In English
Judith Black (Stanley/Barker)
Jess T. Dugan (MACK)
Mark van den Brink (Van Zoetendaal / Gallery Fifty One)
4pm-4.45pm // In English
Rob Hornstra (auto-édition)
Barbara Bosworth (Radius Books)
Tom Arndt (Atelier EXB)
FRIDAY, NOVEMBER 11TH
2pm-2.45pm // In French
Nhu Xuan Hua (Area Books)
Thomas Rousset (Loose Joints)
Grégoire Eloy (The Eyes)
3pm-3.45pm // In English
Laia Abril (Dewi Lewis)
Seba Kurtis (The Gould Collection / Christophe Guye)
Kathleen Alisch (L'Artiere)
4pm-4.45pm // In English
Curran Hatleberg (TBW Books)
Aleix Plademunt (Spector Books)
Focus on 2022 Paris Photo – Aperture Book Award
SATURDAY, NOVEMBER 12TH
2pm-2.45pm // In French and English
Winning artists of the 2022 Carte Blanche Paris Photo Prize
3pm-3.45pm // In French
Kourtney Roy (André Frère Éditions)
Vincen Beeckman (Delpire & Co)
Zoé Aubry (RVB Books)
4pm-4.45pm // In English
Effie Paleologou (MACK)
Moe Suzuki (Chose commune)
Martin Parr (Maison CF)
SUNDAY, NOVEMBER 13TH
2pm-2.45pm // In English
Abdo Shanan (RM editorial)
Sebastien Cuvelier (Ghost / Kaunas Gallery)
Valerie Phillips (Éditions Bessard) 
3pm-3.45pm // In French
Laurence Leblanc (L'éditeur du dimanche)
Thierry Fontaine (Editions Dilecta, galerie filles du calvaire)
Camille Gharbi (The Eyes)
4pm-4.45pm // In French
Nicolas Floc'h (Roma Publications / Galerie Maubert)
Hannah Darabi (GwinZegal)
Patrice Dion (Light Motiv)