(AFTER)CARE
TRAUMA . VULNÉRABILITÉ . RESPONSABILITÉ
Carte blanche à l'artiste Laia Abril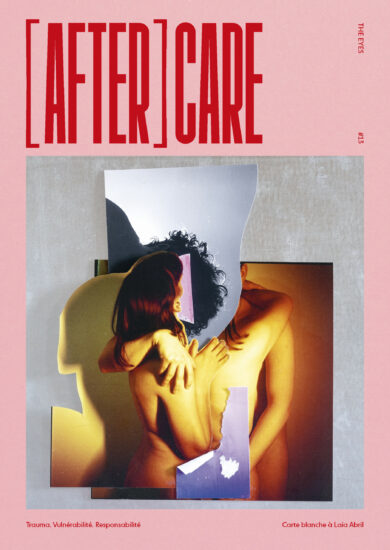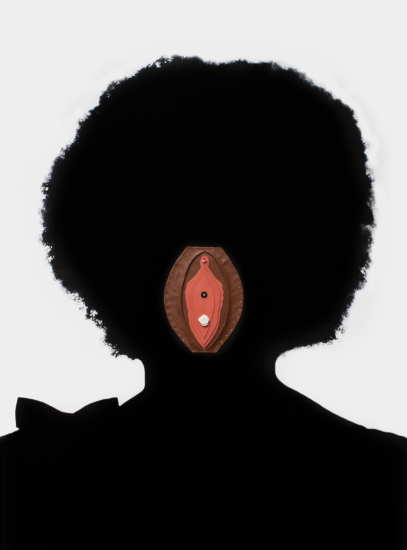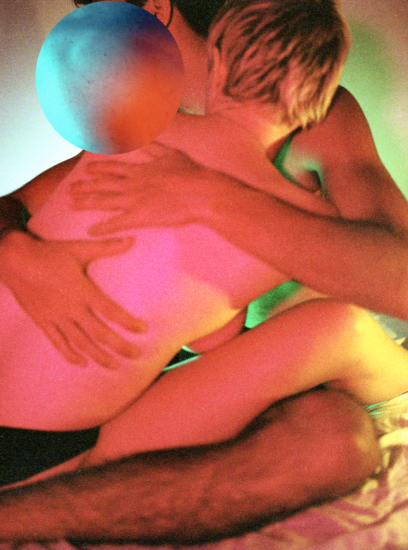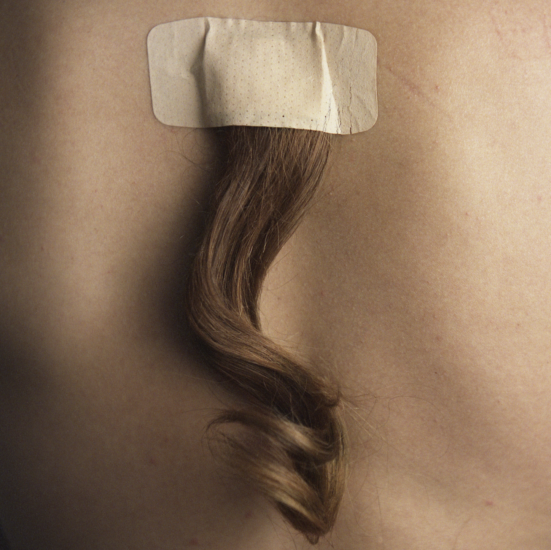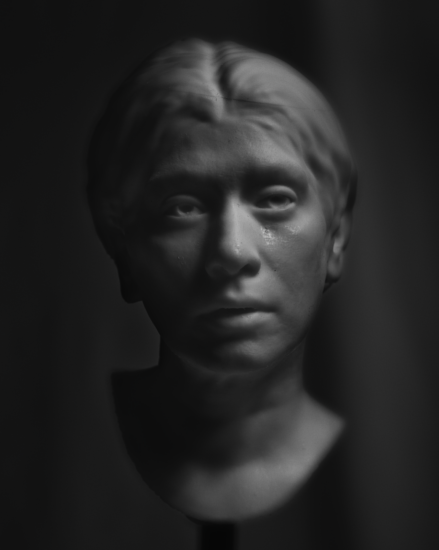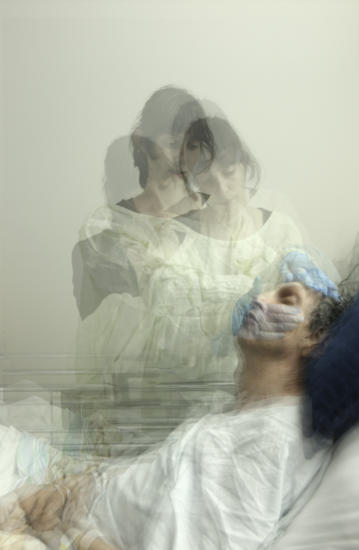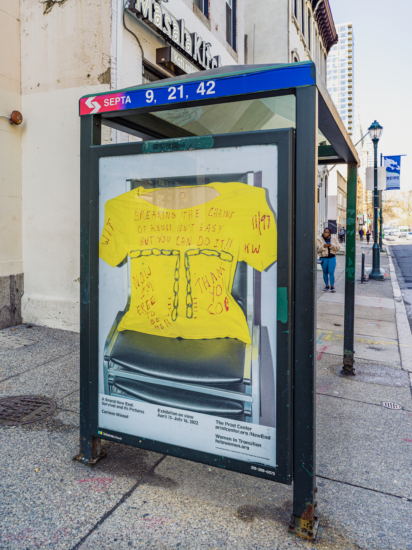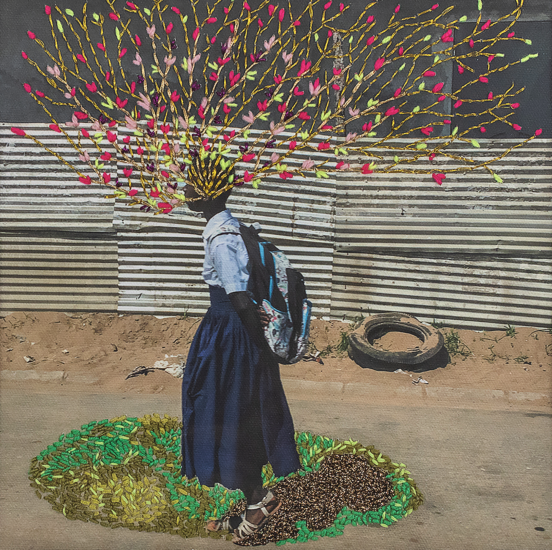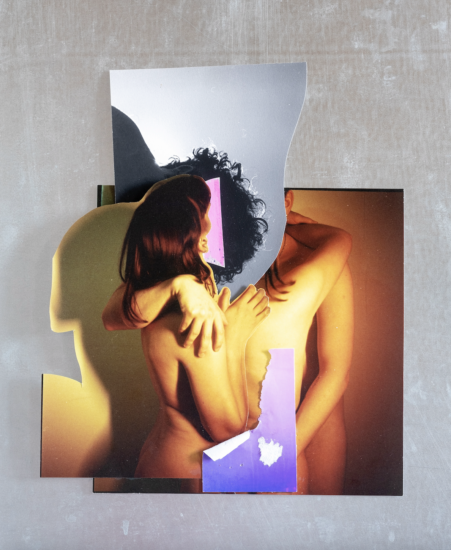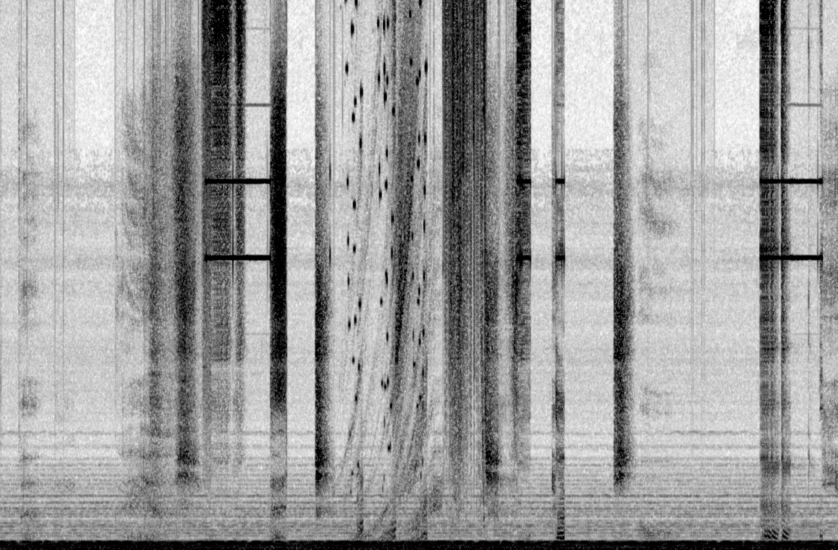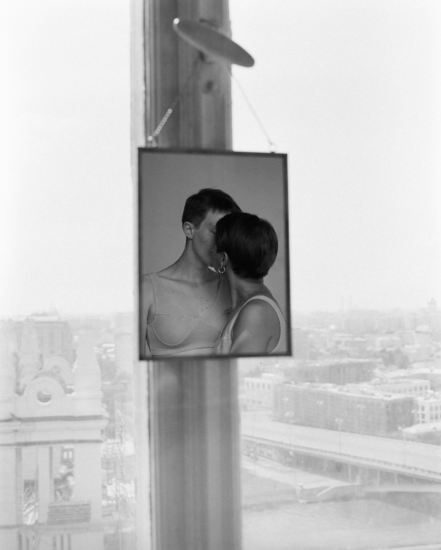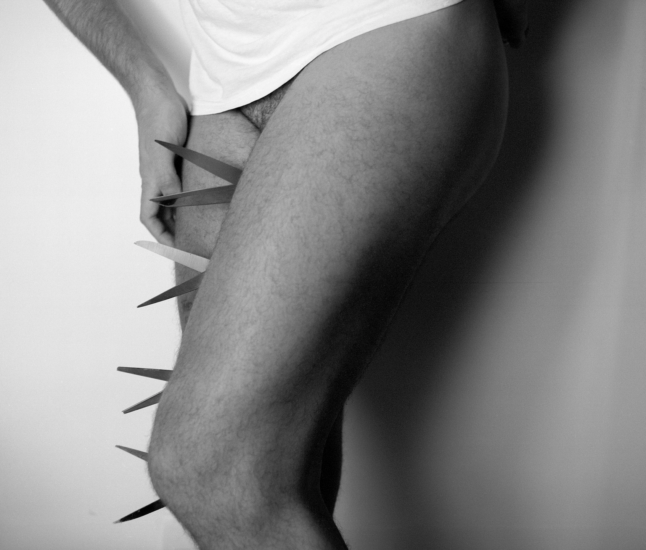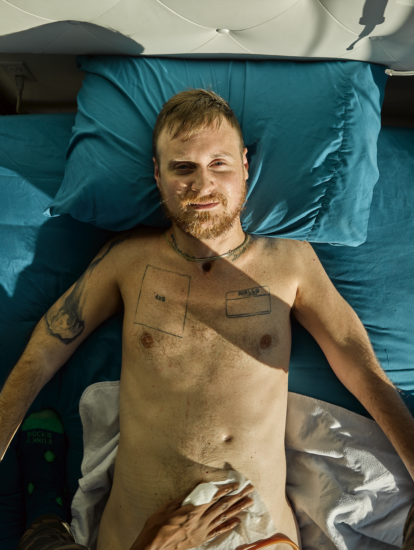 THE EYES #13
(AFTER)CARE
TRAUMA . VULNÉRABILITÉ . RESPONSABILITÉ
Avec ce nouveau numéro intitulé « (After)care » la revue The Eyes examine les méthodes et analyse les positionnements des photographes qui travaillent sur les chapitres les plus traumatisants de nos histoires individuelles et collectives.
Après notre collaboration avec SMITH (Transgalactique, 2020) puis Johny Pitts (B-Side, 2021), nous avons proposé à l'artiste espagnole Laia Abril de s'emparer du contenu de la revue.
Ce 13e numéro est construit autour d'une notion qui imprègne la pratique de Laia Abril, à savoir la question du soin dans un contexte post-traumatique, soit l'« (After)care » en anglais.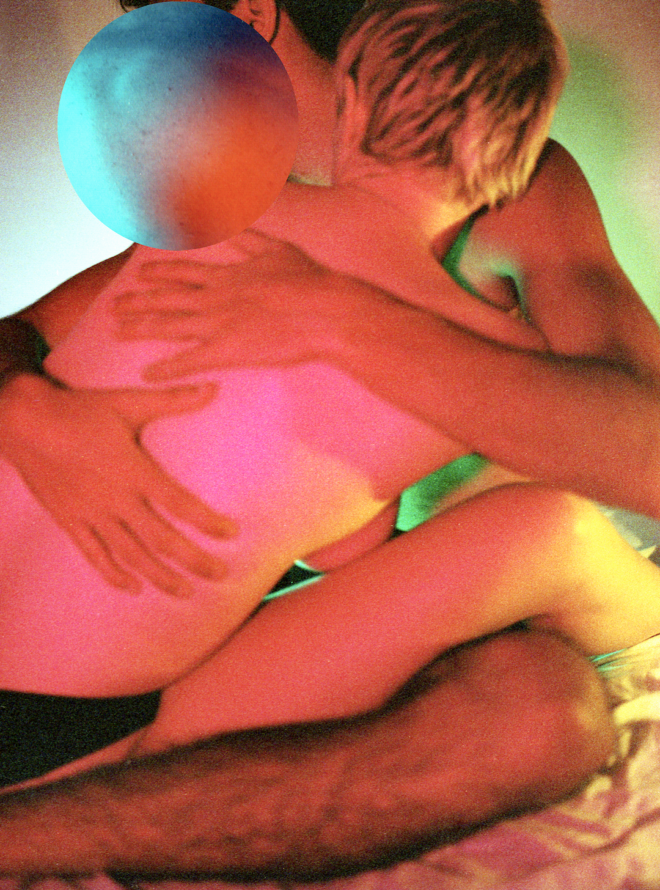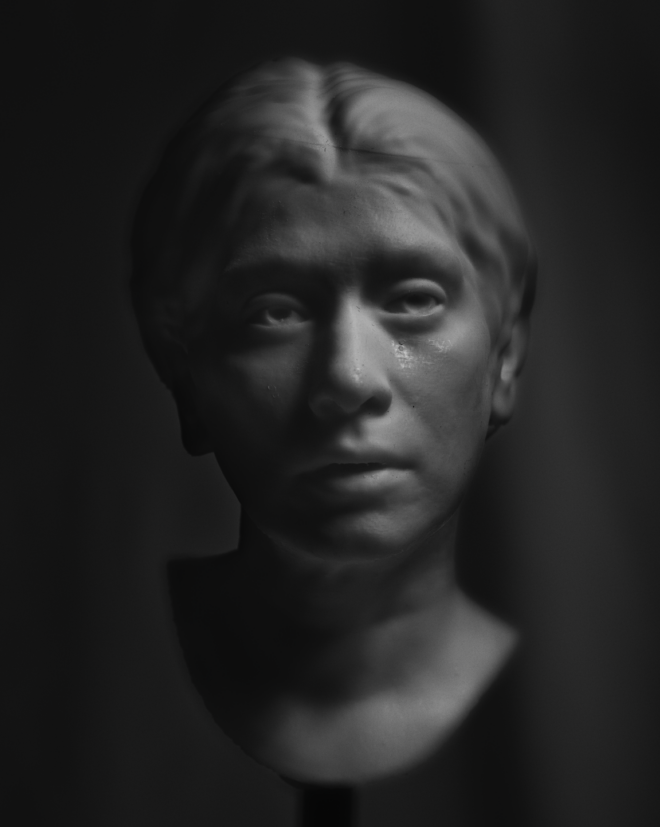 © Ana Vallejo, Neuromantic                                   © Hoda Afshar, Agonistes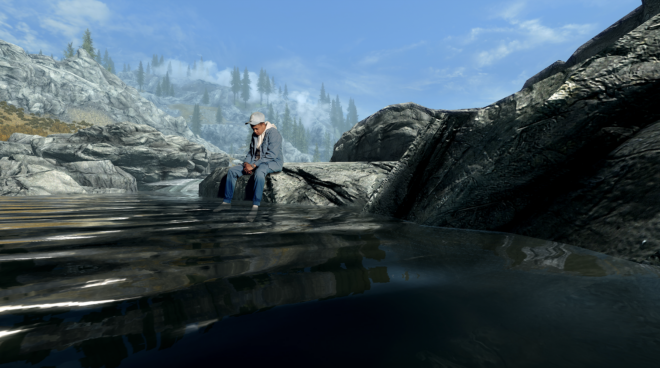 © Jérémie Danon, Plein Air
Ce numéro interroge les consciences des lecteurs et sonde le rôle de la responsabilité au sein du processus photographique.
De nombreuses questions émaillent ce numéro : comment mettre en images nos blessures les plus profondes ? Quelle est la place de la vulnérabilité dans la création photographique ? Comment s'assurer que la violence du monde ne se rejoue pas à travers la violence des images ?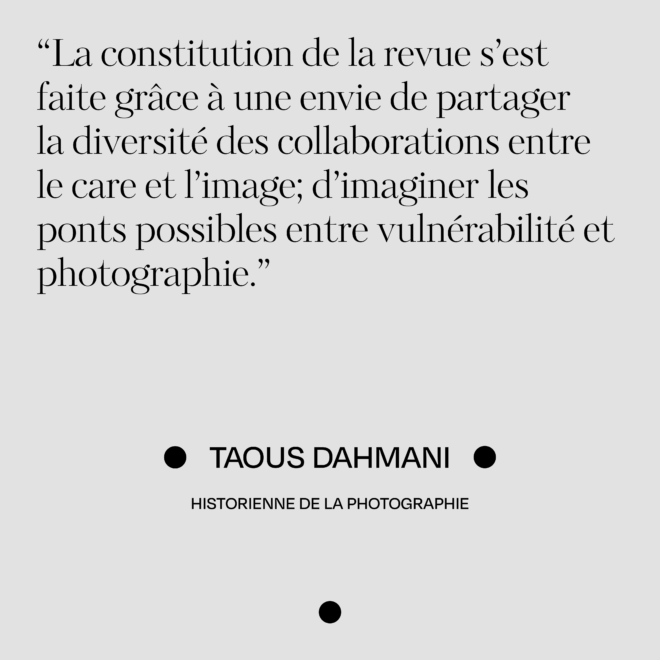 The Eyes propose une plongée dans une variété de travaux et de livres d'artistes qui incarnent toutes et tous, à leur façon, une pratique du « care photographique ». Les oeuvrestraitent de sujets aussi divers que les guerres coloniales, les catastrophes naturelles, les violences sexuelles et de genre ou encore le handicap. Des textes et entretiens de chercheurs et artistes élargissent la réflexion sur ce sujet encore trop peu discuté.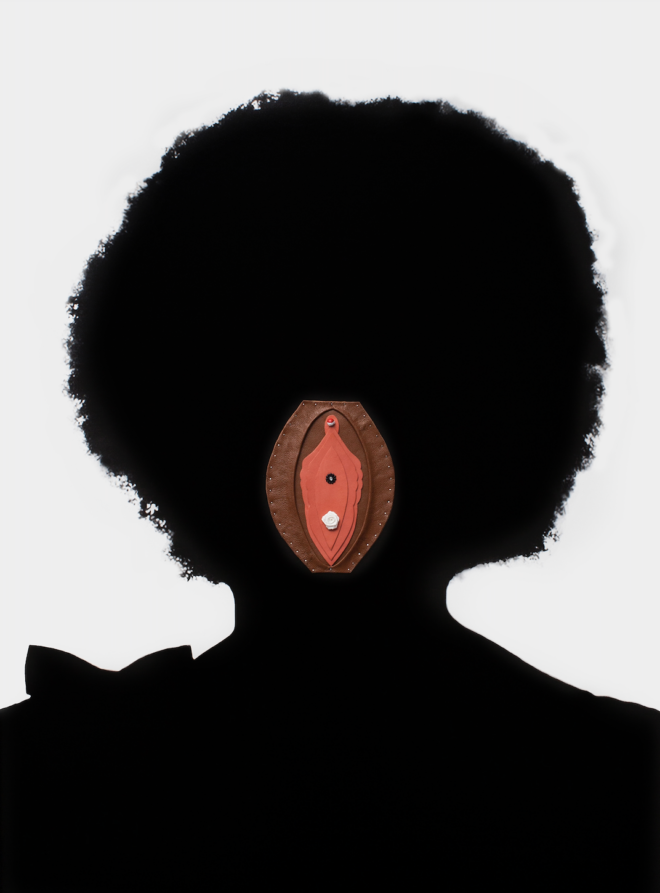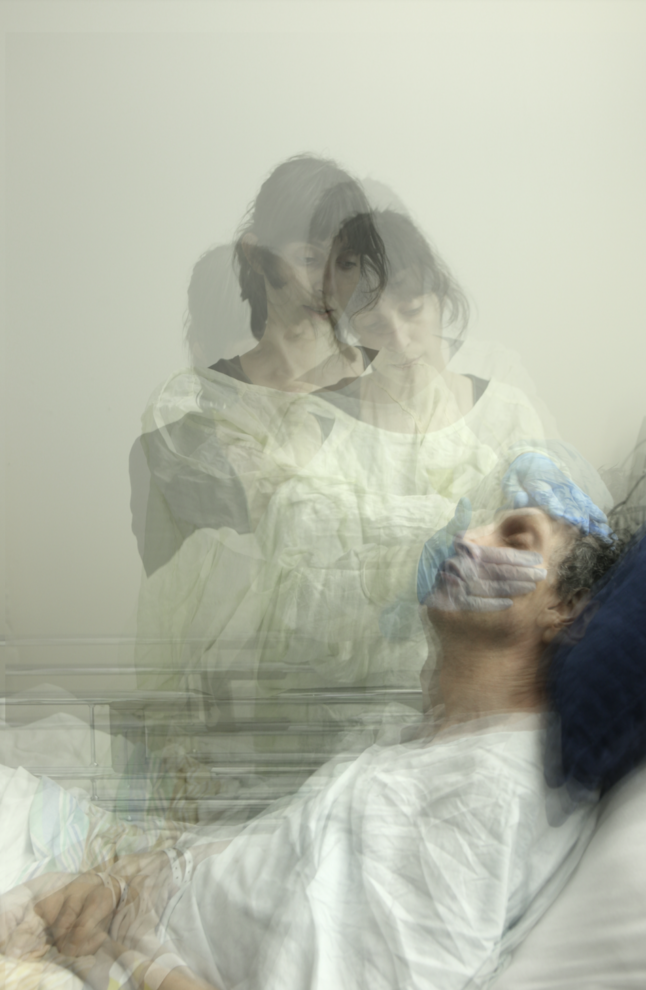 © Aida Silvestri, Unsterile Clinic                          © Kitra Cahana, Still Man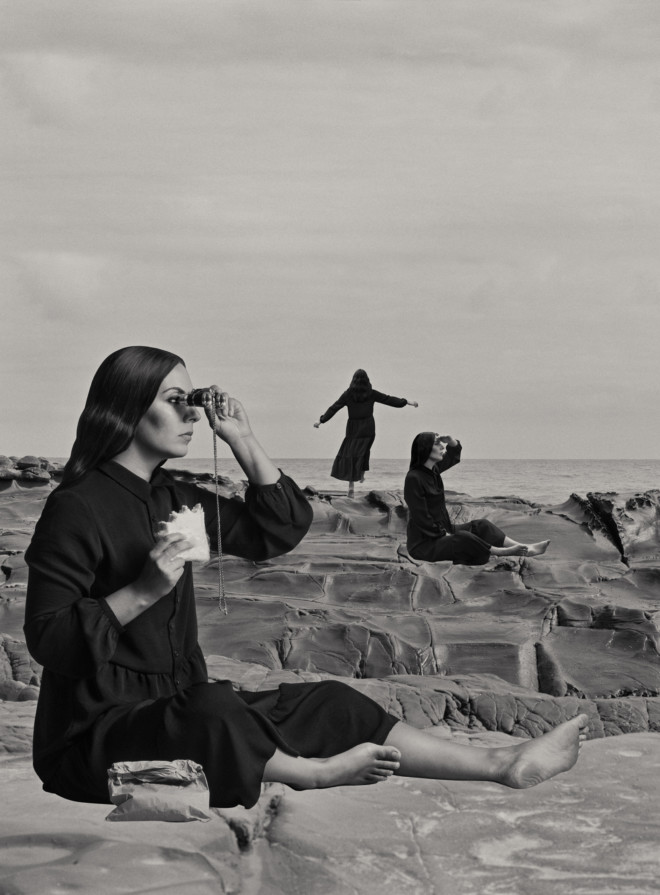 © Margo Ovcharenko, Country of Women            © Hayley Millar Baker, I Will Survive
À propos de Laia Abril
© Mahalanuuk, Laia Abril
Laia Abril est une artiste complète – photographie, texte, son – dont la pratique est axée sur la recherche. Après un diplôme en journalisme et une expérience en tant que rédactrice au magazine
Colors
, elle s'est concentrée sur des projets à long terme portant sur des réalités préoccupantes et peu visibles liées aux droits des femmes, la douleur et la biopolitique.
Elle est l'auteur de plusieurs ouvrages :
The Epilogue
(2014, Dewi Lewis); 
Lobismuller
(2016, RM) ;
On Abortion
(2018, Dewi Lewis), nominé pour le prix de la Fondation Deutsche Börse pour la photographie et a remporté le prix Paris Photo – Aperture PhotoBook Awards ;et
On Rape
(Dewi Lewis, 2022). Ses installations ont été exposées dans plus de 15 pays et font partie de collections telles que le Centre Pompidou, le FRAC, le musée de l'Elysée, le Fotomuseum Winterthur, le MoCP et le MNAC.
Sa carrière a été récompensée par le Prix de la Photo Madame Figaro – Arles, la Hood Medal à Londres et le Foam Paul Huf Award à Amsterdam, entre autres.
Elle est basée à Barcelone et est représentée par la galerie parisienne
Les Filles du Calvaire
. Laia Abril vient de publier le livre On Rape chez Dewi Lewis (2022).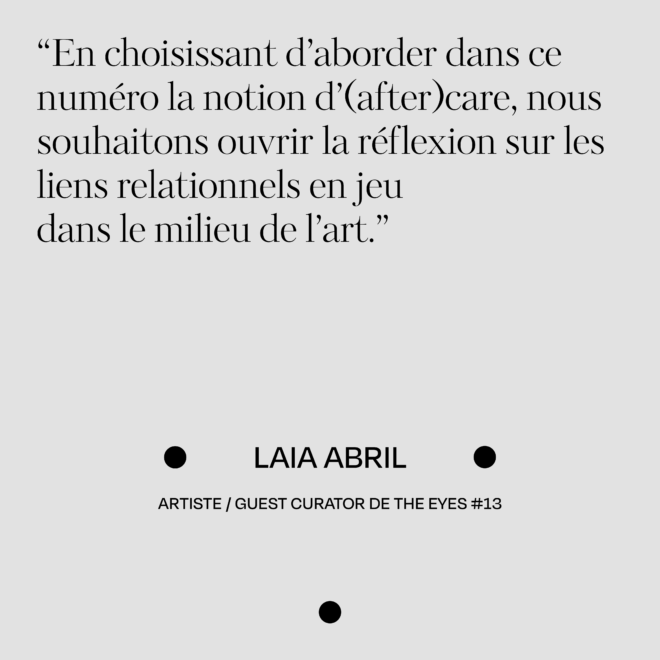 TEXTES
Taous Dahmani
Historienne de la photographie et membre du comité de rédaction de The Eyes
Laia Abril
Artiste, chercheuse et guest curator de The Eyes #13
AprÈs/Soins
Texte de Daniela Vicherat Mattar
Experte du care, professeure associée de sociologie à l'université de Leiden à La Haye.
Comment envisagez-vous l'aftercare dans votre travail ?
Les artistes publiés dans la revue donnent leur point de vue sur la notion d'aftercare dans leur pratique artistique.
Ana Vallejo, Hayley Millar Baker, Hoda Afshar, Kitra Cahana, Margo Ovcharenko, Max Pinckers, Robert Andy Coombs, Masina & Gal, Jérémie Danon.
Les réseaux de care mutuel
Une conversation entre les deux artistes, Carmen Winant et Laia Abril
Photocaptionist
Letizia Lopreiato x Laia Abril
Federica Chiocchetti propose dans ces pages un dialogue entre les images inédites de Laia Abril et la poétesse Letizia Lopreiato. 
PORTFOLIOS
12 PORTFOLIOS D'ArtistEs

                              
Hoda Afshar
Robert Andy Coombs
Kitra Cahana
Joana Choumali
Jérémie Danon
Masina & Gal
Hayley Millar Baker
Margo Ovcharenko
Max Pinckers
Aida Silvestri
Ana Vallejo
Carmen Winant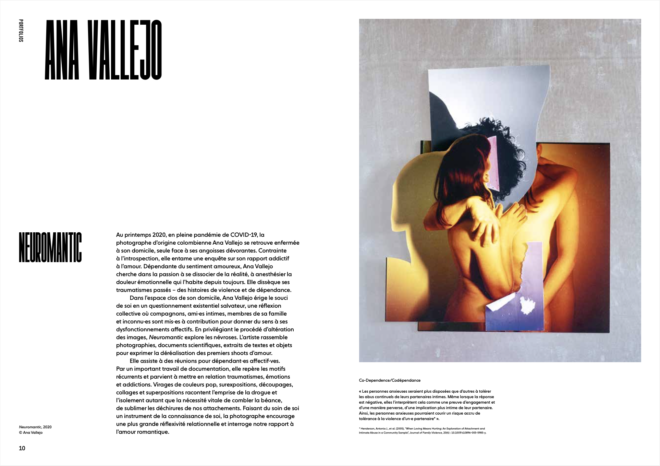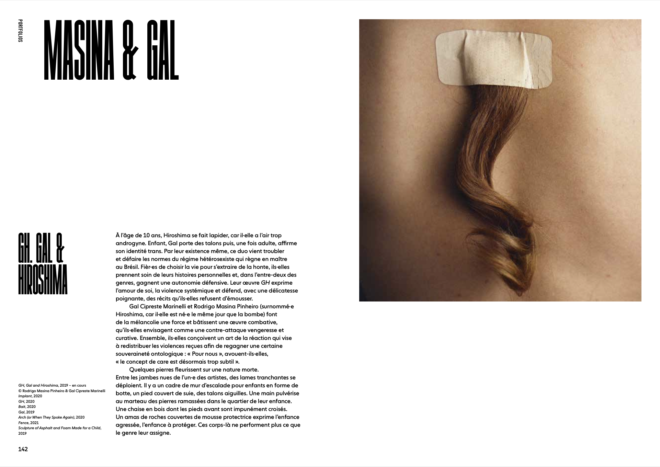 9 PORTFOLIOS livres
Sick in Bed, Cheryl Newman
Midlife, Elinor Carucci
Dry, Abdo Shanan
Licking War Wounds, Andrii Dostliev & Lia Dostlieva
Jardin de mi Padre, Luis Carlos Tovar
Small Wars, An-My Le
The Restoration Will, Mayumi Suzuki
Faire Face. Histoires de violences conjugales, Camille Gharbi
Where my Heart Settles Down, Wang Yingying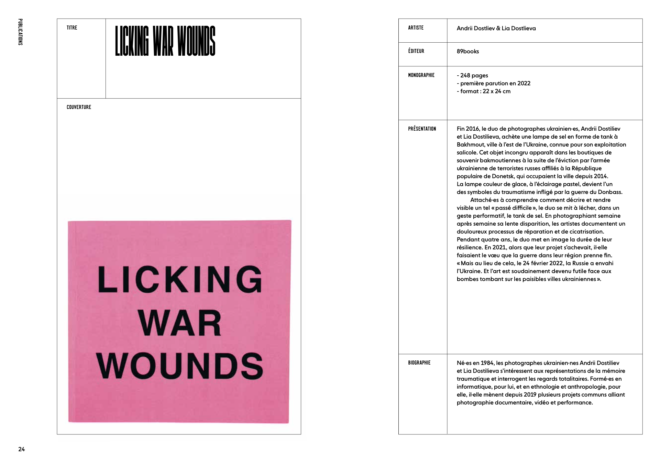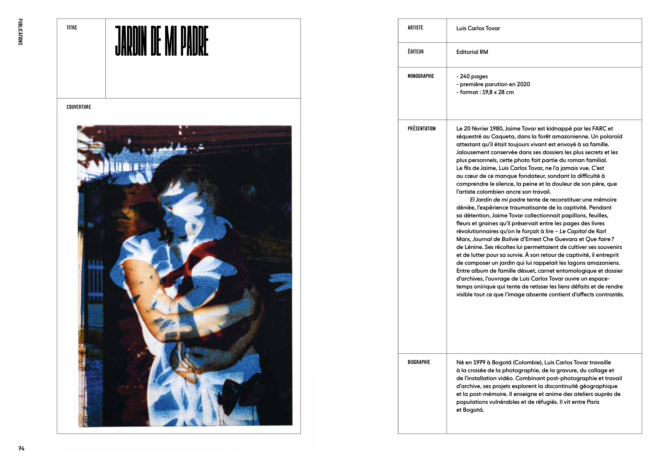 La presse en parle