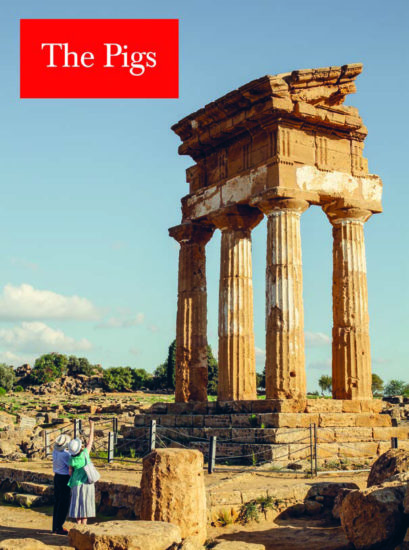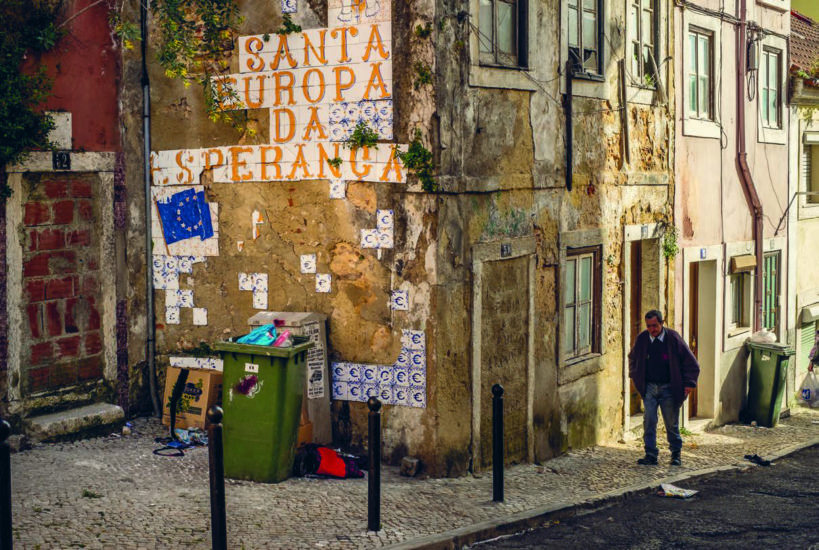 LISBON, PORTUGAL - MAY 14 2013: tiles painting is one of the most unique and world known crafts from Portugal. In this corner they used the traditional tile painting technique to write this message: "holy Europe of hope", and added many euro symbols also painted on tiles. Southern european countries are traditionally very europhiles. Thanks to the extreme austerity measures imposed by the so-called Troika, this feeling is quickly disappearing. Just like the tiles on the wall.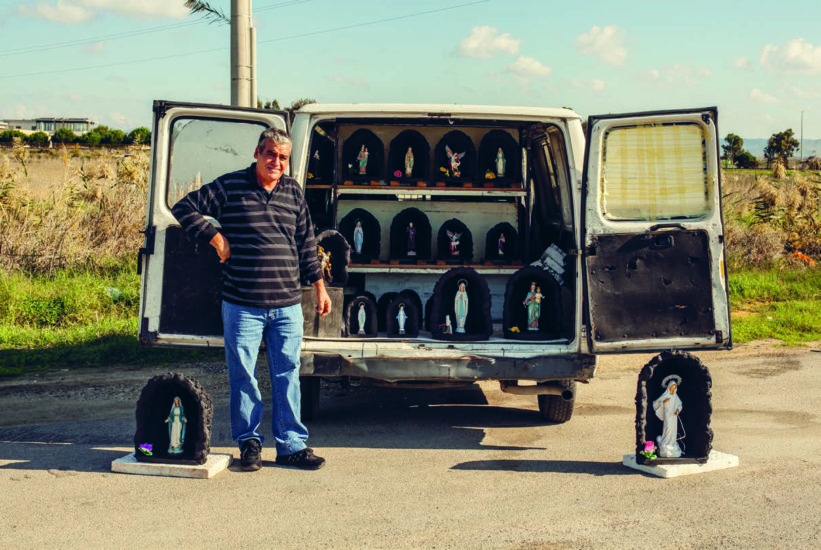 GELA, ITALY - OCTOBER 23 2010: Saro Spataro is a Sicily born Argentinian. He has been unemployed for years. He was hit by the Argentinian economic crisis in 2001, so he moved to Spain. He lost everyithing in 2007 again, so he moved to Sicily to see if far parents could help. He sells "madonnine" at the side of the raod. He makes them with clay and black concrete, and states that he has invented this particular design that has been copied many times.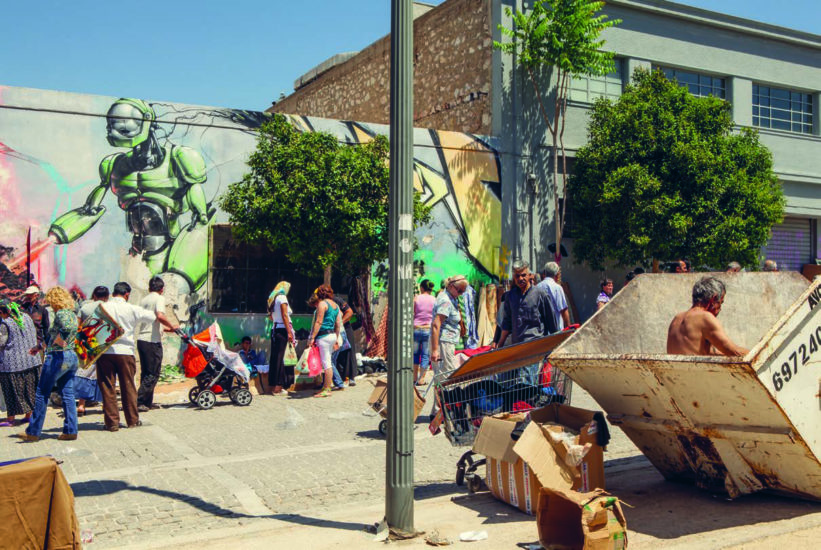 ATHENS, GREECE - MAY 06 2012: people walking at the flea market. Inside a garbage container, a homeless man looks for any useful thing to take . After years of deep economic crisis, enduring hard austerity measures, and with no clear future in the horizon, Greece has become a poor country. On the left part of the image, a violent robot graffiti makes me think of how this crisis may be somehow the consequence of a hyper-technological life.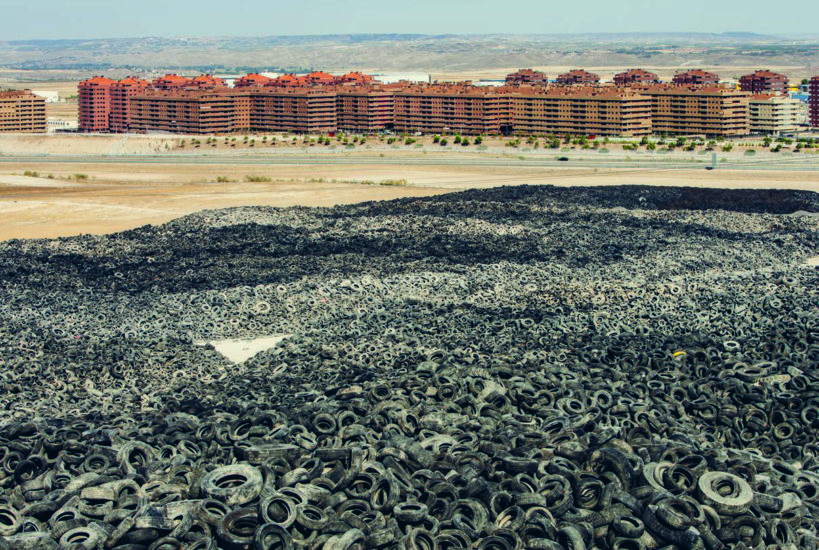 SESE√?A, SPAIN - JULY 29 2009: Residencial Francisco Hernando was built during the first years af 2000's decade. It is one of the clearer examples of wild speculative urbanization that took place during the last decade in south european countries, and especially in Spain. This residential compound is now partially empy. Many low-middle class families bought one or two apartments for speculating, and got cought by the bubble burst. Besides this, the are is not really ready for a normal life. It lacks of schools, shopping areas, hospital, and it was built very close to a used tires dump, with no environmental or security measures at all.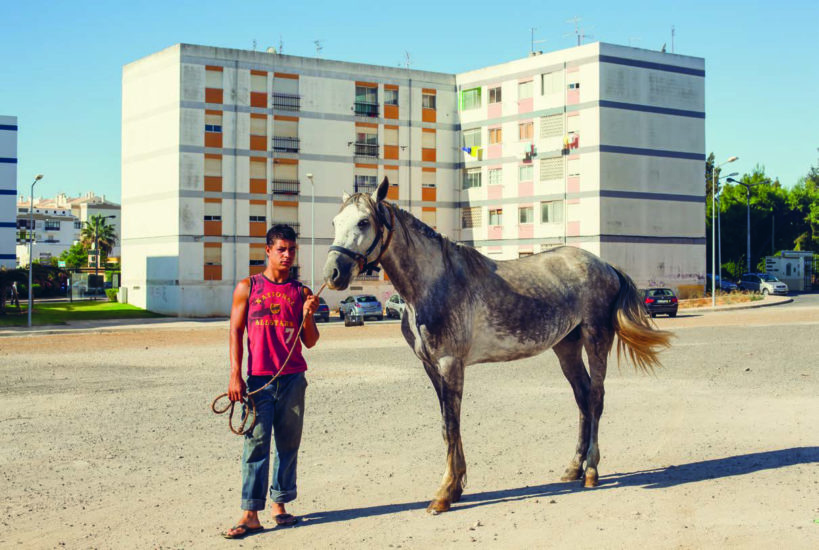 PORTIMAO, PORTUGAL - AUGUST 16, 2011: a young gipsy holds his horse after cleaning it. It's always striking to see working horses in urban context. It's like different development ages coexisting in time. When I see this image, I can't help thinking about this painting by Picasso: http://www.wikipaintings.org/en/pablo-picasso/boy-leading-a-horse-1906 In fact, some icons live long lives, and therefore coexist with their own future.
Cochon qui s'en dédit !
Photos et texte de Carlos Spottorno
La tourmente financière qui s'est emparée de la zone euro a contribué à renforcer les stéréotypes sur le Vieux Continent. La traditionnelle opposition entre Nord et Sud a ainsi resurgi avec une étonnante vigueur après la publication en 2008 par le « Financial Times » d'une violente charge contre le Portugal, l'Italie, la Grèce et l'Espagne, sous le titre évocateur « Pigs in muck ». De là le succès médiatique de l'acronyme PIGS.
Dans un livre-magazine intitulé « The Pigs » et parodiant la mise en page de « The Economist », le photographe espagnol Carlos Spottorno interroge les lieux communs relayés par la presse anglo-saxonne.
Le terme « PIGS » a été inventé par la presse financière et économique pour désigner le Portugal, l'Italie, la Grèce
et l'Espagne, réunis du fait des difficultés économiques que ces pays traversent depuis quelques années. C'est là une expression péjorative, d'inspiration néolibérale et provenant le plus souvent du monde anglo-saxon. La presse s'est longtemps fait l'écho de cet acronyme en le reprenant sans réserve.
Des taux de dette publique et privée trop élevés, de mauvaises rentrées fiscales, des bulles immobilières et, plus généralement, une gestion politique et économique très décevante, tous ces facteurs ont placé les PIGS dans le viseur des marchés. On dit que ces pays ne sont pas capables de partager la même monnaie que leurs homologues européens plus puissants, et que l'euro ne tardera pas à dis- paraître dans la mesure où l'un ou l'autre des PIGS devra abandonner la monnaie commune.
Mais qu'y a-t-il de vrai dans tout cela? À quel point les pays riches de la zone euro en ont-ils assez d'aider les pays du Sud? Le Royaume-Uni se réjouit-il secrètement des aléas que connaît l'euro? L'Europe a-t-elle atteint un point de non-retour dans son déclin historique? Ou sommes-nous simplement face à une attaque spéculative pour éliminer l'Union européenne de la compétition sur les marchés financiers? Est-il vrai que les PIGS ont vécu dans l'illusion d'un niveau de vie qui ne reflète pas la réalité de leur situation sociale et économique?
Je me suis souvent demandé comment ces pays sont arrivés à cet état de dénuement, après avoir connu des siècles de splendeur. Qu'est-il arrivé à la Grèce, le berceau de la civilisation occidentale? Qu'est-il advenu de l'Italie, héritière de l'Empire romain et détentrice du plus riche patrimoine artistique du monde? À quoi le Portugal a-t-il achoppé, lui qui fut jadis la première puissance navale mondiale de l'histoire? Quand a donc commencé la décadence de l'Espagne et de son empire, où le soleil ne se couchait jamais?
Je crois que l'origine de la situation actuelle lamentable de nos pays remonte à bien longtemps. Pendant des siècles, les problèmes se sont accumulés, et ils s'imposent désormais avec plus d'évi- dence que jamais. […]
C'est pourquoi il existe un décalage important entre la perception que les PIGS ont d'eux-mêmes, alimentée par une idéalisation de leur propre passé, et le manque de solidité de leurs structures actuelles. Les PIGS se voient eux-mêmes, et ils le sont réelle- ment, comme les fondateurs, les cellules mères de l'idée d'Europe. En tant que dépositaires des racines de la culture occidentale, les pays du sud de l'Eu- rope ne peuvent se percevoir eux-mêmes comme des pays sans poids spécifique dans le jeu politique international. Aussi bien au niveau des institutions que sur le plan des individus, les PIGS vivent dans un état paradoxal où se heurtent une perception hypertrophiée de leur importance relative et un complexe d'infériorité qui s'interpose entre la réalité et leurs rêves de grandeur.
Les PIGS sont des pays vieux, cyniques et individualistes. Le sens de la communauté, qui est si enraciné dans les pays du nord de l'Europe, est par contre très faible dans ces pays qui ont derrière eux des siècles de structures sociales très hiérarchisées et de pratiques autoritaires et corrompues de leurs gouvernants. Les gens vivent en marge d'une classe politique dont ils n'attendent presque rien, et recherchent leur bien-être dans une perspective individualiste, ce qui constitue à la fois un avantage évolutif dans un système de survie et un recul pour le progrès social. Pendant ce temps, la famille demeure l'institution la plus importante, servant à la fois de refuge et de prison.
Carlos Spottorno, extrait de The Pigs. Portugal, Italie, Grèce et Espagne vus par les économistes, Phree – RM Verlag, Barcelone, 2013.