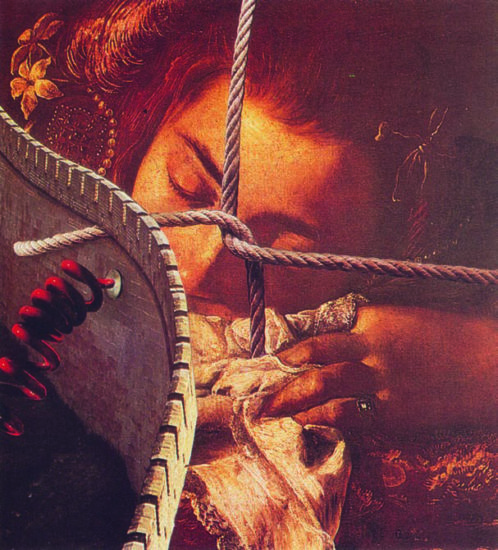 Copyright A.Bizos/vu Nina Hagen Berlin 1979 sÈquence 7/9
BIZOS / CIESLEWICZ
Text by Guillaume Frauly
Images by Alain Bizos, Roman Cieslewicz
Drawing creative parallels between photography and other forms of visual art, graphic design specialist Guillaume Frauly examines a photograph by Alain Bizos and a poster by Roman Cieslewicz..
Creating a dialogue between two images, which, at first sight, have nothing in common, is always an interesting exercise. Polish graphic designer Roman Cieslewicz would no doubt have enjoyed this type of crossover. Instigating a dialogue between a series of portraits of Nina Hagen and Cieslewicz's collage The Red Phone could have been the designer's own idea, as he was famous for casting a critical eye on everyday images, digesting the news by transforming parts of images into compositions.
Let's consider these two images, two faces, two expressions. Even though they appear to be opposites, they are actually extremely close. To begin with, both were created around the beginning of the 1980s, a period rendered infamous by its numerous political events, wars, and revolutions.
The portraits by Alain Bizos date back to 1979.
They are part of a series of six photographs taken in East Berlin, at the end of a wild party, in front of what appears to be a cathode-ray tube throwing up images that possibly come from the West. The tight framing, artificial lighting, saturated Lomographic colours, ostentatious make-up, and subjects blown up to near unreasonable proportions, all create the suggestion of movement. These portraits are all in Alain Bizos' signature style. Bizos rejected the idea of "decorative aesthetics", and was the editor of the Bazooka collective's legendary magazine Un Regard Moderne. Here, Nina Hagen, the icon of East German punk, gives herself over to his camera, posing like a member of the Clash or any of the other young British bands of the time, provocatively transgressing codes. The Trabant-green colour against which her body is depicted like a naked 1950s pin-up girl seems to designate a border or a barrier – possibly representing the wall separating her from Western culture. A rebellious offspring of the new underground scene, she nonetheless appears to be screaming out her desire to be part of Western culture, with her near aggressive, even sexual stance. Travelling beyond the confines of the Wall to give concerts, Nina Hagen was later deprived of her East German nationality. She chose to settle in Poland, where she continued to parody Janis Joplin and Tina Turner, who were also her icons.
The singer seems to enjoy displaying her erotic figure, with her silhouette resembling a kind of home-made button pin badge – a trinket everybody used to collect at the time, amplifying the deliberate ugliness of her expression and her wild posture. The message is unclear, but the image has something strange about it, conveying a kind of underlying unease.
Another metaphor of the Wall
Playfulness and absurdity are also features of Roman Cieslewicz's work. The artist used to say, "A poster is successful if it isn't talked about much". One of his guiding principles was to intrigue the viewer without revealing too much, as was the notion of "fighting against eye pollution". Aesthetic omission and the resulting air of mystery are common themes in both images. Cieslewicz was a graphic designer who "sometimes made posters". He enjoyed creating non-commercial compositions, on a daily basis and in almost compulsive fashion, and he never threw anything away. At the same time he fought against the excessive use of paperwork, a practice he discovered after settling in France in 1963. As a leading figure of the Polish School, which would go on to revolutionize the art of cultural posters, he often passed over commissions in favour of creative freedom. He would combine juxtapose, and overlap signs and letters in order to express his very personal view of the world and its politics. Everything in this 1982 collage is an enigma: the face and posture of the "sleeping beauty" – quite possibly borrowed from Giorgione, Hans Baldung Grien or some Flemish master, the medieval, crenelated wall, and, above all, that red telephone which, as the only link between the Kremlin and the White House, had a profound impact on international diplomacy during the Cold War. It is difficult not to interpret this as another metaphor for the Wall, with the many inte- rwovenropessymbolizingimprisonment.Andwhat of the mist that covers the golden cage like a veil? The artist, having spent most of his career in France, experienced his own dual visual legacy of both Eastern Europe and the modernized West.
The two images seem to somehow complete each other and overlap in ways that keep the mystery intact. Both artists have a close relationship with cinematic aesthetics and both regularly created series of works. (Roman Cieslewicz would have loved to try his hand at cinema.) These are two unclassifiable creators who both began their careers with painting and created photographs that made magazine covers (Actuel for one, Opus for the other). Both continuously provided very personal visions of the world – while enjoying themselves to the full and without reverence.