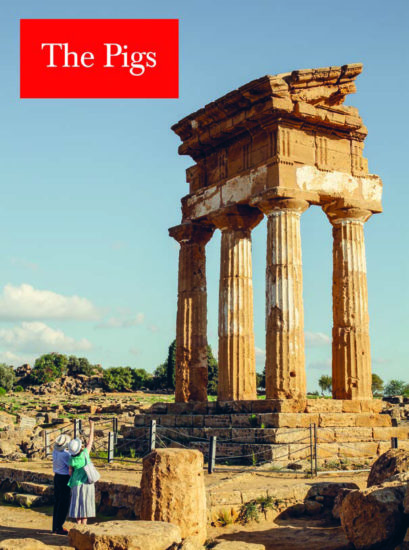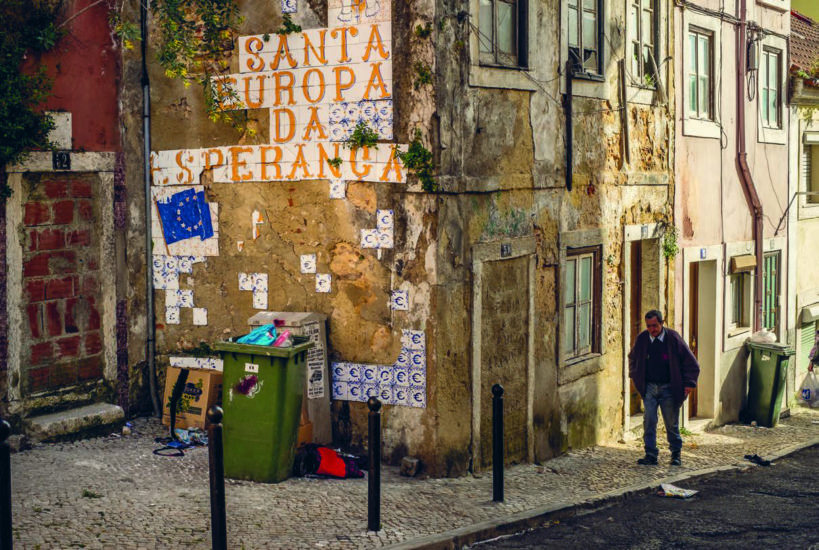 LISBON, PORTUGAL - MAY 14 2013: tiles painting is one of the most unique and world known crafts from Portugal. In this corner they used the traditional tile painting technique to write this message: "holy Europe of hope", and added many euro symbols also painted on tiles. Southern european countries are traditionally very europhiles. Thanks to the extreme austerity measures imposed by the so-called Troika, this feeling is quickly disappearing. Just like the tiles on the wall.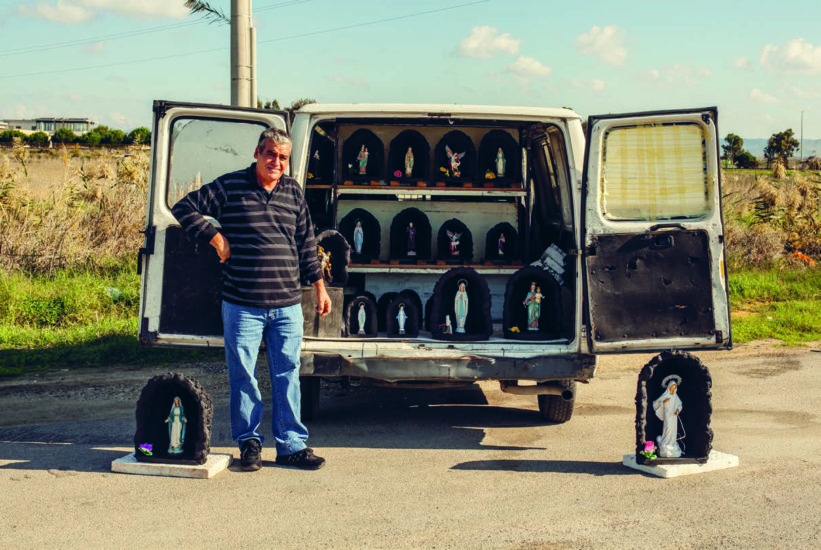 GELA, ITALY - OCTOBER 23 2010: Saro Spataro is a Sicily born Argentinian. He has been unemployed for years. He was hit by the Argentinian economic crisis in 2001, so he moved to Spain. He lost everyithing in 2007 again, so he moved to Sicily to see if far parents could help. He sells "madonnine" at the side of the raod. He makes them with clay and black concrete, and states that he has invented this particular design that has been copied many times.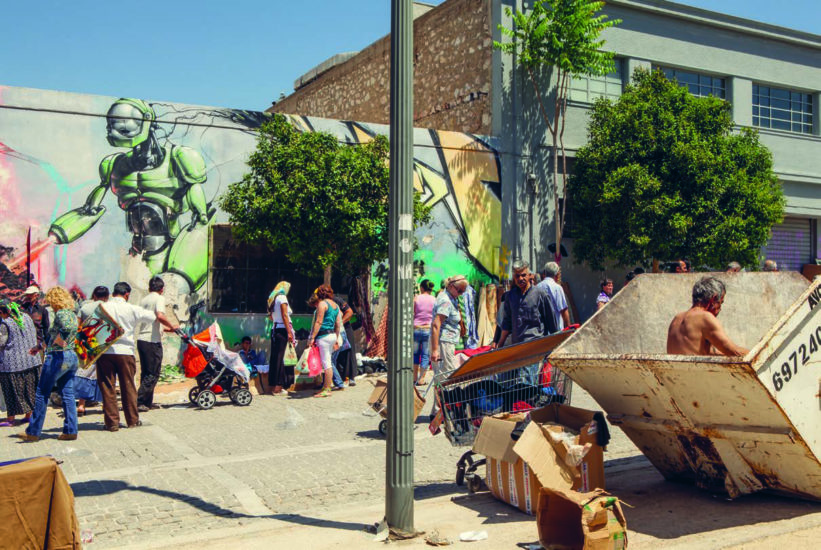 ATHENS, GREECE - MAY 06 2012: people walking at the flea market. Inside a garbage container, a homeless man looks for any useful thing to take . After years of deep economic crisis, enduring hard austerity measures, and with no clear future in the horizon, Greece has become a poor country. On the left part of the image, a violent robot graffiti makes me think of how this crisis may be somehow the consequence of a hyper-technological life.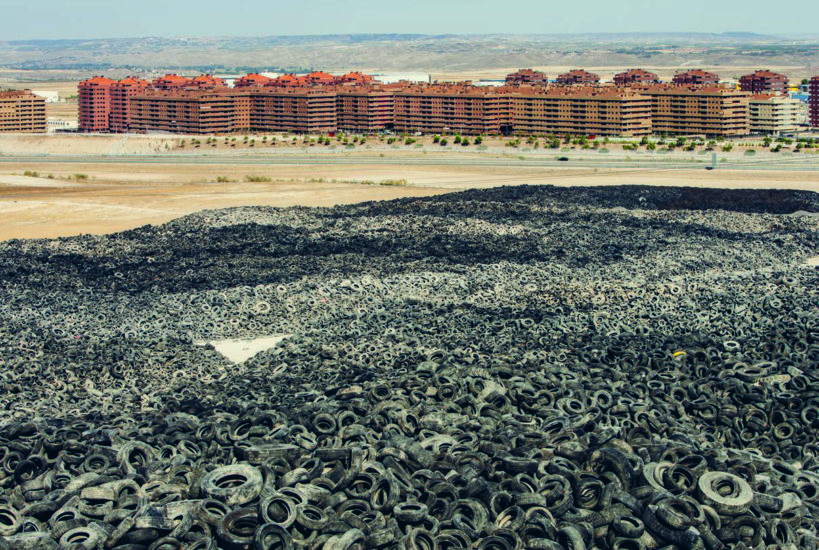 SESE√?A, SPAIN - JULY 29 2009: Residencial Francisco Hernando was built during the first years af 2000's decade. It is one of the clearer examples of wild speculative urbanization that took place during the last decade in south european countries, and especially in Spain. This residential compound is now partially empy. Many low-middle class families bought one or two apartments for speculating, and got cought by the bubble burst. Besides this, the are is not really ready for a normal life. It lacks of schools, shopping areas, hospital, and it was built very close to a used tires dump, with no environmental or security measures at all.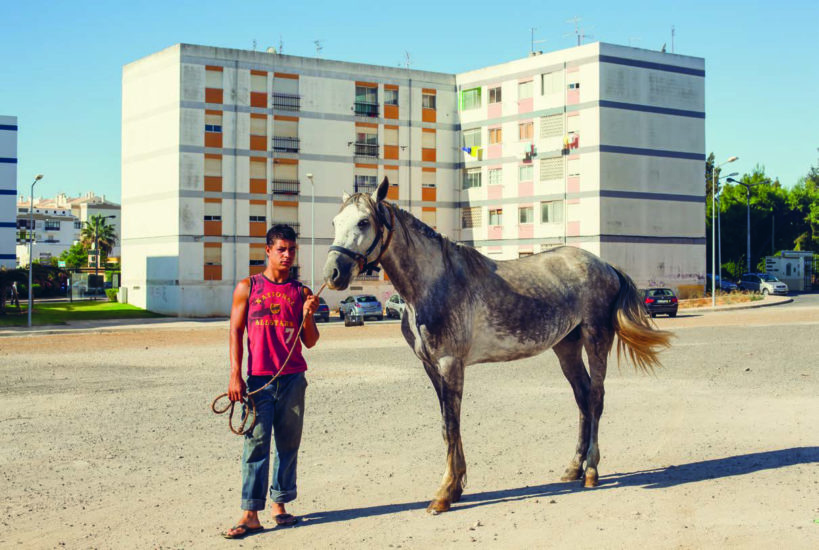 PORTIMAO, PORTUGAL - AUGUST 16, 2011: a young gipsy holds his horse after cleaning it. It's always striking to see working horses in urban context. It's like different development ages coexisting in time. When I see this image, I can't help thinking about this painting by Picasso: http://www.wikipaintings.org/en/pablo-picasso/boy-leading-a-horse-1906 In fact, some icons live long lives, and therefore coexist with their own future.
Cochon qui s'en dédit !
Photos and text by Carlos Spottorno
Cross my heart! The financial turmoil gripping the Eurozone has had an indelible effect on and contributed to reinforcing stereotypes on the Old Continent. The traditional opposition between Northern Europe and Southern Europe resurfaced with surprising force in 2008 after the "Financial Times" heavily criticized Portugal, Italy, Greece, and Spain in the evocatively titled article "Pigs In Muck". The expression spread through the media like wildfire in the form of the acronym PIGS.
PIGS is a term coined by the business and financial press as a way to refer to Portugal, Italy, Greece and Spain during the financial crisis that these countries have undergone over recent years. What started as a pejorative label used by neo-liberals, mainly from English-speaking countries, was eventually taken up for some time without any qualms by the media.
Excessively high levels of public and private debt, government deficits, a property bubble and, gene- rally speaking, very disappointing political and economical policies, have put the PIGS in the cross- hairs. It is alleged that the PIGS won't be able to bear the pressure of sharing a common currency with their stronger European brethren. In this analysis, the forced exit of at least some of the PIGS from the Euro would soon lead to the demise of the European currency.
Yet, how much truth is there to this? To what extent are the wealthy member countries of the Eurozone really fed up with paying for the southern countries? Is the UK secretly celebrating the stumbling blocks that the Euro experiment is facing? Has Europe's historical decline reached a point of no return from which it won't be able to recover? Or is this just an attack by speculators to get rid of the EU as a competitor in the international financial markets? Have the PIGS really been deluding themselves into enjoying a level of prosperity that doesn't match their social and financial reality?
I have often asked myself how, after so many centuries of splendour, could these countries have come to their current destitute state? What happened to Greece, the cradle of Western civilization? What became of Italy, heir to the Roman Empire and endowed with one of the richest artistic heritages in the world? What went wrong with Portugal, the first global naval power in history? At what point did Spain and its empire, on which the sun never set, see the onset of their decline?
I believe the root cause of our countries' current sorry state of affairs is to be found in the distant past. Issues that for many centuries piled up on our doorsteps are now more apparent than ever. […] And so it is that, over time, significant discord developed between the perception the PIGS have of themselves, fed by an idealized view of their own past, and the weakness of the foundations on which they actually stand. The PIGS view themselves, rightly, as the architects, and as the stem cells from which the idea of Europe developed. Southern Europe resists admitting its loss of political stature in the global political arena, seeing itself as the well- spring of Western Civilization. Both in the institutional sphere, ant at a personal and individual level, the PIGS embody a paradox. An overblown perception of their own relevance that clashes with an inferiority complex standing between their own desire of greatness and the reality of their situation.
The PIGS are all old, cynical, and individualistic countries. The sense of community, so deeply rooted in Northern European countries, is very weak in the PIGS, carrying as they do upon their backs the weight of centuries of a highly hierarchical social structure, and being accustomed to both authoritarian and corrupt governments. People have turned their backs on the political class, from which they don't expect much, if at all, and seek to improve their wellbeing exclusively from a personal stand- point; an attitude that constitutes both an evolutionary advantage for survival, and a factor hindering social progress. Meanwhile, the family as a social institution has maintained its authority, serving both as a refuge and a prison.
Carlos Spottorno, extract from The Pigs. Portugal, Italy, Greece and Spain Through the Eyes of the Economists, Phree – RM Verlag, Barcelona, 2013.