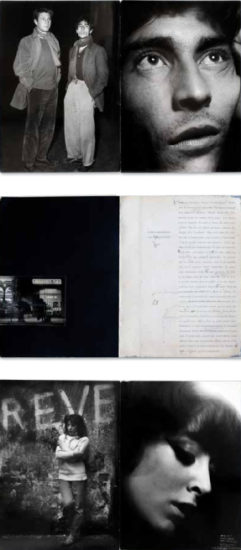 With the Eyes of Sartre
Text by Hans-Michael Koetzle
Between Existentialism and Situationism, three major books show Paris in the 1950s and the 1960s.
There are no solid statistics. And yet, it is relatively safe to say that Paris is the world's most photographed city. This technology was launched in Paris in 1839. It then seemed obvious to point the camera and the lens to whatever was at arm's length: the immediate environ- ment, the River Seine or the boulevards, the Louvre or Notre-Dame. Already, the 19th century had bequeathed us countless magnificent views of Paris using the most distinctive photographic techniques, from daguerreotypes to prints on salted paper, albumen photographs or gelatin silver prints. After the unique print came the portfolio, essentially intended for tourists; and as it became possible to print photographs in the 1890s, the book with photographic illustrations emerged. Along with the postcard, these illustrated books largely shaped our fantasy vision of the capital city. There are two kinds. On the one hand we have the representative photobook aimed at travellers, conveying a majestic representation of the capital through classical views. On the other, we have the author book, an illustrated volume conceived by an artist photographer for whom form and content are equally important: and Paris became an excuse for a novel approach to the world – as evidenced by the sensation caused by Brassaï in 1932 with his collection of photographs, Paris de Nuit [Paris by Night]. The books by Moï Ver (Paris), Ilya Ehrenburg (Moi Parizh [My Paris]) and André Kertész (Day of Paris) also deserve a mention. The artists were all immi- grants, all from Eastern Europe. Each one sketched a personal and innovative image of the city, both formally and aesthetically.
While mostly Hungarians settled by the Seine in the interwar period, from 1945 onwards the riverbanks welcomed of a community of photographers from Holland, Denmark and Sweden, with such names as Anna Birgit, Ed Van der Elsken, Johan Van der Keuken, Nico Jesse, Cas Oorthuys, Tore Johnson, Christer Strömholm and Rune Hassner. What attracted them to Paris? A sensual reputation based on an allegedly playful life and luscious delights? Or the intellectual revival nurtured by the existentialist tide claimed by Jean-Paul Sartre? The philosopher no doubt inspired Ed Van der Elsken for his book Love on the Left Bank, published in 1956. Released in Dutch, German and English but not in French, it has long been considered one of the most original, personal and ingenious photobooks – the first photo novel claiming artistic aspirations. Ed van der Elsken came to Paris in 1950 and soon befriended a group of young people; he joined them during their nights out and took photos, creating a form of visual diary from which he then drew the mate- rial for a highly praised volume. The American critic Vince Aletti described the book as "a Beat Generation update of Brassaï". Others saw him as a pioneer to the Nouvelle Vague. Whatever it is, Ed Van der Elsken's radically subjective approach certainly set a standard in the absence of which comparable projects dealing with adolescence such as the works of Larry Clark or Wolfgang Tillmans – and of course Nan Goldin – would hardly be conceivable.
Cinema student Johan Van der Keuken took photo- graphs on the streets of Paris between October 1956 and August 1958, probably thousands of shots, formally and aesthetically influenced by William Klein, whose New York, released in 1956, had been the focus of many discussions. On the political front, the Algerian war and a precarious economic situation were fuel- ling the debate, and explain van der Keuken's sombre visual language – as sombre as the heavy heliography in the resulting book released in 1963. Its title is far from euphoric: Paris Mortel [Deadly Paris]. Whoever designed the sober yet suggestive layout created a sinister fantasy, a low-key dream hinting more at the photographic renewal initiated by the New York School with Louis Faurer, Saul Leiter and Robert Frank than at 1950s humanist photography.
Another important Scandinavian photographer who should also be mentioned is Christer Strömholm, already considered "one of the leading photographers in Scandinavia" in his lifetime. Conceived as an essay between 1956 and 1962 during his second stay in Paris, Les Amies de la place Blanche is certainly his most personal project, and also the most daring. The point was not only to earn the confidence of this marginal social group. Strömholm's Place Blanche dealt with transsexual reality, an extremely taboo issue. The series was released in book form only in 1983, some 20 years later. The student demonstrations in the 1960s certainly largely contributed to a decline in sex-related tensions. But they did not necessarily foster a tolerant atmosphere cleared of any prejudice. The layout is ostensibly simple, with the views centred on the page – an intimate gallery more than a spectacular amble. Christer Strömholm's book is a monument erected to individuals who felt like outcasts, lived differently and died young, most often from overdose, illness or suicide. When the photographer returned to Place Blanche 20 years later, there were only "two out of his 20 close friends" left.