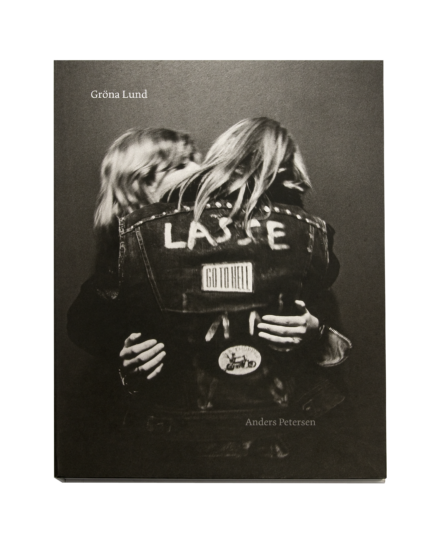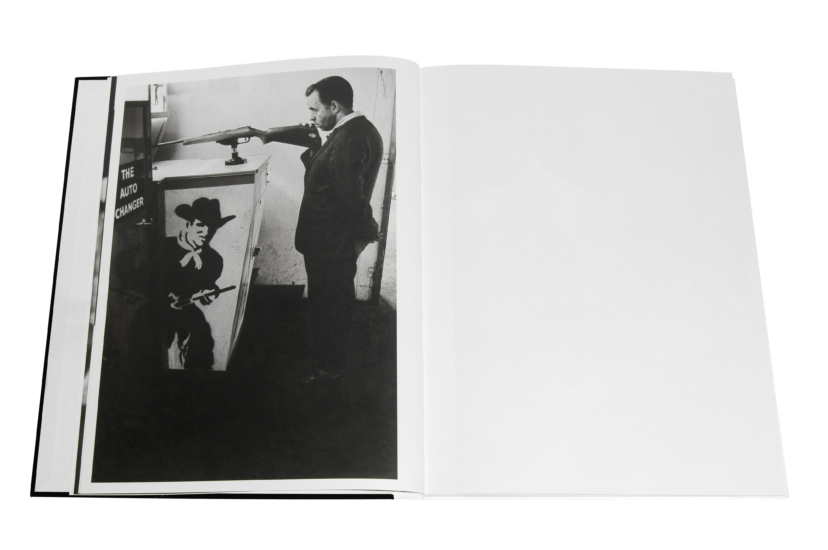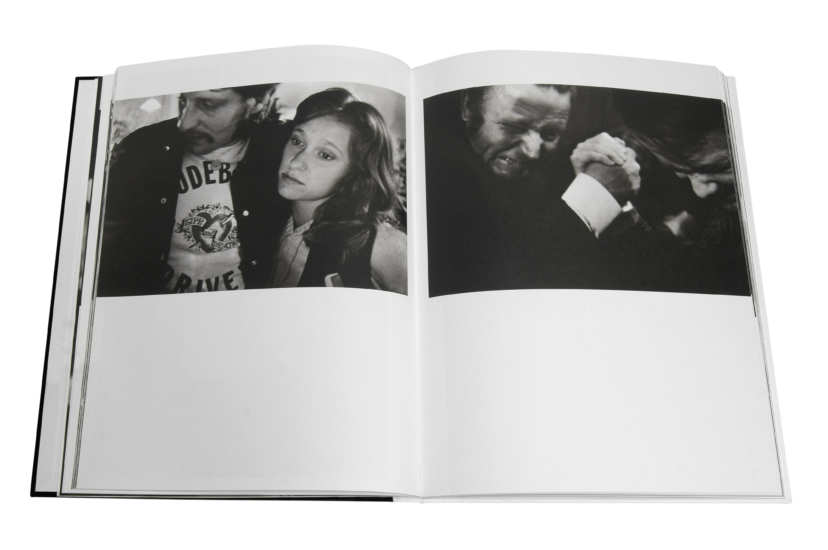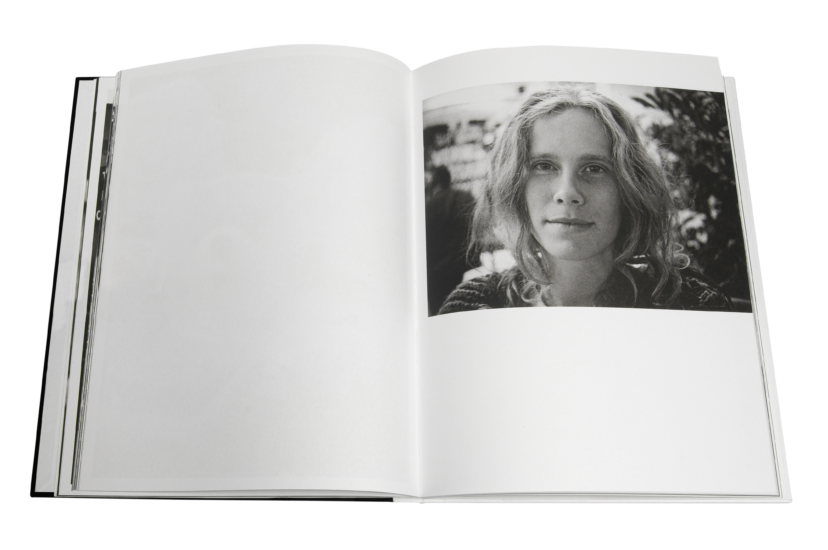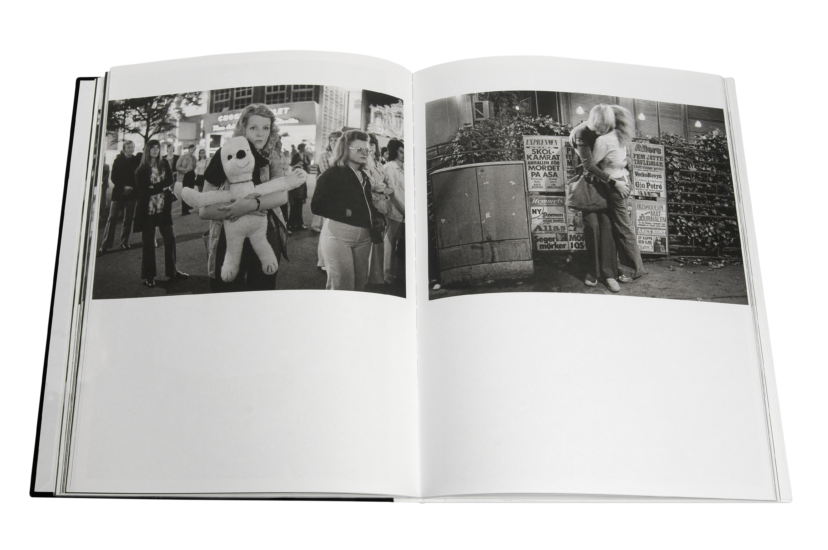 Gröna Lund
Gröna Lund is a reprint of Anders Petersen's first book Gröna Lund om människör pa ett nöjesfalt published by Fyra Förläggare in Stockholm in 1973.
Following on from Café Lehmitz, this series is also produced in a closed world, one of Sweden's oldest amusement parks dating from 1883, located on the island of Djurgarden in Stockholm.

In this rereading of the 1973 edition, Anders Petersen shows the evolution of his approach. A more intense selection, a more organic energy leads Gröna Lund towards that almost animal sensibility that is reflected in her more recent works. A bitter and nervous style, a selection of quieter and more melancholic images, evacuating the euphoria of the party.
A first edition of this book was published in 300 signed and numbered copies, on the occasion of the exhibition at Galerie VU' of period prints dating from the first edition. A second unsigned edition is now available.
---
PREFACE
All distinguished in long, thick, starry, floating capes, like blind men who finally, after a thousand years of silence, touch our faces, arms and hands.
Elise is here. Her denim jacket glides along her bare shoulders, her skin full to the brim, her estrogen blends with her saturated vanilla scent, ready to disintegrate. Further on, red and white spirals draw us up to the tops of tall drumsticks. Madeleine, there's nothing we can do about it. Not you, not me. That's the way it is, it all begins when it ends. At high altitude, wagons attack turns as if to resurrect death. A whole life spent there, without realizing it, without admitting it. You can't be serious when you're alive.
The sirens are tearing us from our wiggling hips, Jim must have won something, somewhere. People are tiny under his feet. The city as seen from here is promise and threat in the same belly. Lili, come here. Stop it, you know I don't like it when you talk about that. But it's not me talking about it, it's here, in front of us. We live straddling Christmas trees flickering in the dark. Stop it, I told you. The lights go on and off at breakneck speed. Downstairs, it's swarming like a kaleidoscope. Ladies, ladies, gentlemen!
What would we have done if we'd have known sooner? I don't know. I don't know. I don't know. I don't know. I don't know. While they're operating their oblongs like we're cutting up a movie set, the guys come in packs. Whoever walks away from it always has a good reason to do so. Often he comes back with his shoes glittering with urine, another pint in his hand, with a vengeful smile on his face. Are we making things up? I'm sure we have.
Big black flies are roaring, making geometric flights disturbed, panicked by all that sugar and honey, beers and then sweaty foreheads. I wouldn't want to die, at least not like this, right now.
Hans and Mathilde dance, incredulous and quiet, towards a learned tenderness. The smell of frying settles delicately in his bun. As soon as they are assigned, the cuddly toys mutate into totems. We make them play our comedy. We discover new breaths with the joyful jostling and restless laughter. The boy, with his arms glued to his body, his gaze clutching the breasts of this girl who is completely bathed in the arms of her thug, has stopped breathing. Between him and this body, nothing exists anymore, except his hair, which is too long. Over there, there is a hole in the fence through which only he would pass if anything went wrong. We win every time.
Electrified galaxies open up to the eyes of those who look at them. Here there are no losers. The brakes on the merry-go-rounds squeak when the dancers' floorboards slam. Cigarette smoke, unsubdued firecrackers, loudspeakers out of tune and that infant sleeping in his pram. Hans, will we come back next year?
Now we smile only out of desire, celebrating a soothing nonsense. Hordes of gigantic horses bend like demons, ridden by women in blinding metal armour, and pierce the crowded alleys without anyone paying attention. Dust floods our glasses and plates, no matter how deformed we are, and we take our waltzes back where we left them. The apocalypse will wait.
A. Cottebrune