OMALO (COLLECTOR EDITION)
OMALO 
GRÉGOIRE ELOY
The OMALO collector's edition takes the form of a revisited book with baryta prints of photograms replacing some pages, other sheets and the cover with overprints of photograms frames.
A silver color print is inserted in the collector's edition. The whole is bound in square back glued and sewn with visible stitching.

Collector's edition of 15 copies. 
Each collector's edition consists of the book in which three baryta prints have been bound, a color print has been inserted and overprints of the photograms have been made on the cover and some leaves of the book.
Finished with a glued square back and visible stitching.
Format 24 x 30 cm.
Signed and numbered.
With the support of Picto Foundation.
The three photograms' baryta prints in the collector's edition: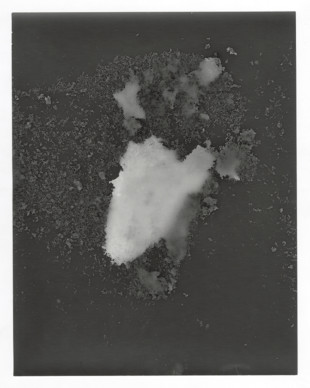 The color print inserted in the collector edition:
This book is published within the framework of the Prix Niépce, with which The Eyes Publishing is associated since 2019. The publisher offers to the winner the publication of an artist's edition limited to 400 copies. The limited edition is supported by Picto Foundation. 
In 2021, Prix Niépce was awarded to Grégoire Eloy.
OMALO presents a series of photograms made by Grégoire Eloy during a residency in Georgia. The photographer questions time, memory and life in this recluse of the Caucasus, while continuing to offer us his vision and his questions about the image itself.
Alternating photograms and their setting in situation, Gregoire Eloy shakes up our perception of what is the image : each shot resulting in a photogram (action of the light of the flash on the photosensitive paper arranged in the space) and a view of the setting (image captured by the camera).