Between a book and a publication, The Eyes
is an editorial object with a demanding and committed content.
The Eyes is an independent publication of
240 pages without advertising
The Eyes gives a broader perspective and deeper understanding
on a social subject through the prism of photography,
the photo book and the creation.
•
The Eyes gives carte blanche to a personality 
of the world the expert photography of the subject and the artistic field.
•
The Eyes highlights portfolios of international artists distinguished as not very visible as well as texts signed by personalities. 
•
The Eyes commits to an original editorial approach
with the shape of a unique object, to become an annual rendez-vous
documentary and artistic photography. 
•
Bilingual magazine in to separate versions, The Eyes showcases photography
in its universal dimension, by giving it back
its political, social, cultural and historical function.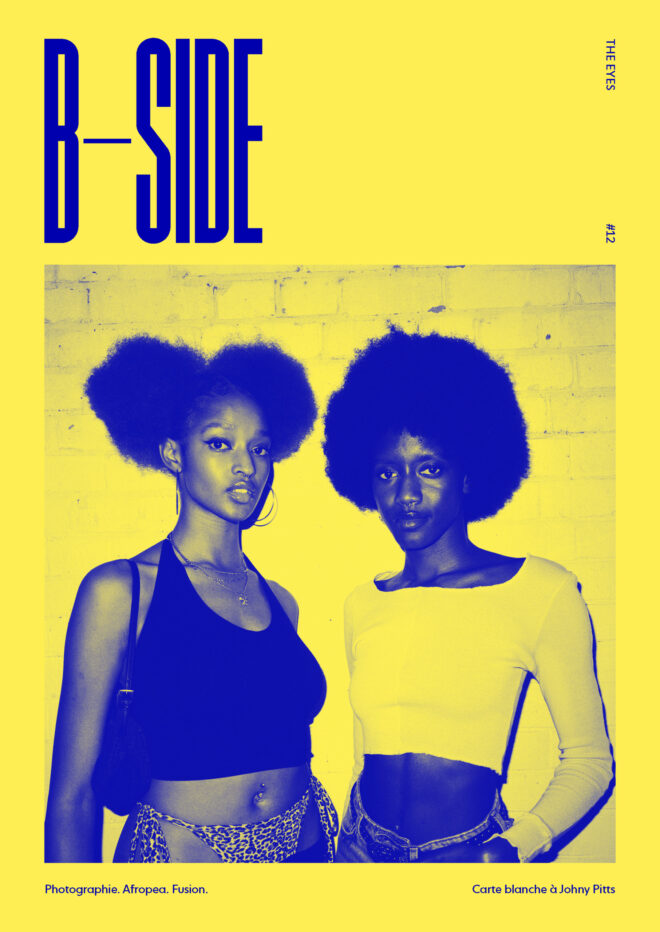 The Eyes #12
B-SIDE
PHOTOGRAPHY . AFROPEAN . FUSION
The Eyes questions cultural and societal evolutions through the prism of photography and creation and gives carte blanche to experts directly concerned by the subjects addressed. B-Side, the upcoming issue of The Eyes journal, invites its readers to a visual exploration of what it means to be Afropean, a notion of expertise of our guest curator Johny Pitts, British photographer and author.
Historical and contemporary photographers, seminal and singular books and journals will explore the diversity of black identities as experienced in Europe.
Entitled "B-Side", this issue is an opportunity to take an offbeat approach – inspired by the field of music in particular – and to look at what is most often heard and seen in a marginal way.
PORTFOLIOS 
James Barnor, Black Audio Film Collective, Marvin Bonheur, Rémy Bourdeau, Bruno Boudjelal, Mohamed Bourouissa (+anoushkashoot), Kodwo Eshun & Anjalika Sagar, Jazz Grant, Arthur Jafa, Délio Jasse, Liz Johnson Artur, Claudia Ndebele, Eddie Otchere, Johny Pitts, La Revue Noire, Mad Professor, Tabita Rezaire, Silvia Rosi, Cédrine Scheidig, Zineb Sedira, Maud Sulter, Sofia Yala Rodrigues, François Maspero et Anaïk Frank, TRACE.
TEXTS & contributions
Thomas Chatterton Williams, Melissa Chemam, Taous Dahmani, Marie Daulne, Claude Grunitzky, Anne Lafont, Vittorio Longhi, Caryl Phillips, Johny Pitts, Roger Robinson, Minna Salami, Elvan Zabunyan.
Soutenez la revue
en rejoignant le Club The Eyes
Le Club The Eyes prolonge l'expérience de la revue 
par une invitation à apprécier différemment la photographie 
et les personnalités qui l'animent
The Eyes is produced with the support of partners and patrons, who regularly contribute to the design of each issue. Encountered for their demanding knowledge or their sustained commitment in the field of visual arts, we design with each of our partners a shared and original creative project..
The Eyes is available in many specialist bookstores
and outlets across Europe.