Between a book and a publication, The Eyes
is an editorial object with a demanding and committed content.
The Eyes is an independent publication of
240 pages without advertising
The Eyes gives a broader perspective and deeper understanding
on a social subject through the prism of photography,
the photo book and the creation.
•
The Eyes gives carte blanche to a personality 
of the world the expert photography of the subject and the artistic field.
•
The Eyes highlights portfolios of international artists distinguished as not very visible as well as texts signed by personalities. 
•
The Eyes commits to an original editorial approach
with the shape of a unique object, to become an annual rendez-vous
documentary and artistic photography. 
•
Bilingual magazine in to separate versions, The Eyes showcases photography
in its universal dimension, by giving it back
its political, social, cultural and historical function.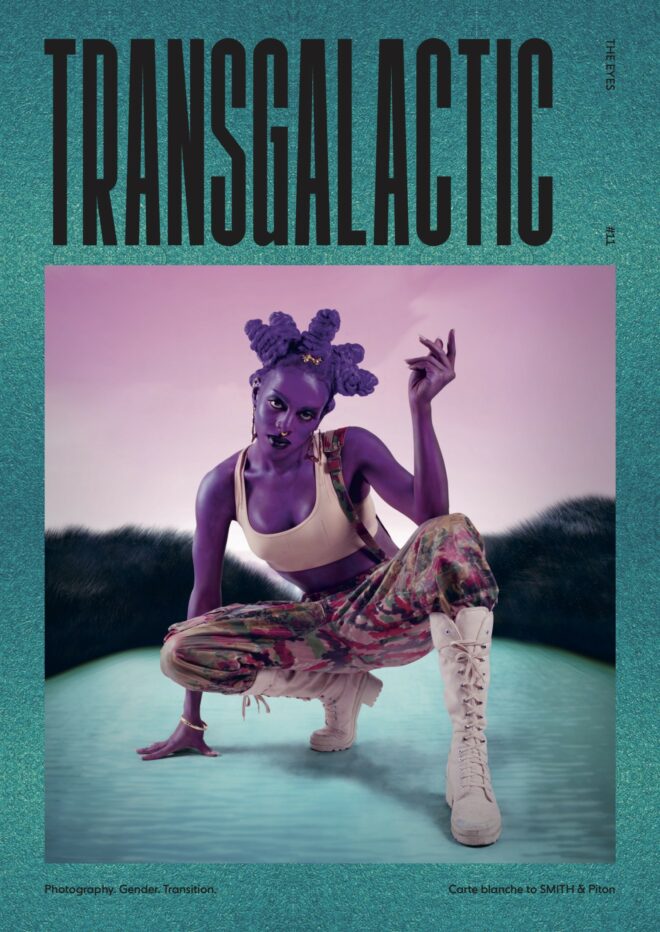 The Eyes #11
Transgalactic
Photography . Gender . Transition 
For this eleventh issue, The Eyes changes shape and tone.
The Eyes questions cultural and societal evolutions through the prism of photography and creation and gives carte blanche to experts directly concerned by the subjects addressed.
For this new formula, the team of The Eyes invites artist-researcher SMITH and performer and curator Nadège Piton to sketch a subjective panorama on the place played by photography in the construction of the gender.
portfolios (in order of appearance)
Juliana Huxtable, Genesis Breyer P-Orridge & Pierre Molinier, Bascoulard, Kent Monkman, Sébastien Lifshitz, Gabriel García Román, Brice Dellsperger, Kama La Mackerel, Annie Sprinkle, Del LaGrace Volcano, Sailor de la Jaquette, Laurence Philomène, Yuki Kihara, Zachary Drucker & Rhys Ernst, Cassils, Ron Athey, Parker Day, Shu Lea Cheang.
with texts by

SMITH & PITON
Paul B. Preciado
Élisabeth Lebovici
Lalla Kowska-Régnier
Soutenez la revue
en rejoignant le Club The Eyes
Le Club The Eyes prolonge l'expérience de la revue 
par une invitation à apprécier différemment la photographie 
et les personnalités qui l'animent
The Eyes is produced with the support of partners and patrons, who regularly contribute to the design of each issue. Encountered for their demanding knowledge or their sustained commitment in the field of visual arts, we design with each of our partners a shared and original creative project..
The Eyes is available in many specialist bookstores
and outlets across Europe.